---
The 'Cowboy' James Storm performing the 'Last Call Super Kick' while in action for TNA…
Read More: British Boot Camp Returns to Challenge TV
TNA Wrestling is going from strength to strength this year, and the company is only going to keep progressing. That is a view shared by three of the company's biggest stars – James Storm, Robbie E and Brooke.
They may not necessarily seem the most obvious selection of travelling companions: a self-proclaimed 'Beer Drinking Champion of the World'; a gym-loving, tan-loving, clown-fearing wrestling fanatic; and the former Knockouts Champion often voted in the Sexiest Woman Alive polls – but they do all have one common passion… professional wrestling.
The last twelve months have represented a well-documented transitional period for the TNA Wrestling brand, as iconic and long-serving stars such as A.J. Styles, Sting, Chris Sabin and Bad Influence have departed, to be replaced by fresh, young, exciting talent.
While the change garnered an understandably mixed response from some fans, those loyal to the company have understood, accepted and stood by the development process, which has already produced the likes of Ethan Carter III and The Wolves.
Storm, Robbie and Brooke travelled to the UK last weekend, where they attended the London Film and Comic Con to promote the announcement of British Boot Camp 2 – just one of the many exciting talking points TNA fans have to look forward to.
British Boot Camp 2
The second series of TNA Wrestling: British Boot Camp, will air exclusively on Challenge TV this autumn. It will follow the search for aspiring professional wrestlers who are trying to make it big in the ultra-competitive world of America's TNA IMPACT WRESTLING.
Wrestlers auditioning for the top prize – a spot on the TNA roster – will need to impress the judges: Al Snow, Samoa Joe and Gail Kim – and compete in a series of challenges in order to prove themselves the 'Best in Britain'.
It's an exciting prospect for everyone in TNA, especially for our unlikely trio:
James Storm: "I think it's really cool, because there are a few British wrestlers that are on TV now. But there are so many talented guys here that never get the chance to be seen because they can't get over to America, and it gives all those kids, all those young guys who dream of becoming a professional wrestler, that hope of living out their dream."
Robbie E: "It's great because one of our biggest markets is here in the UK so why not continue looking for fresh new talent. The first show was such a success, and this time we're going larger, with twelve contestants, so everyone is going to be getting the chance to win a job with the greatest wrestling organisation in the world."
Brooke: "I think everybody is very excited about this. I hope we can really see the competition grow and find out how many stars are out there. I'm just praying that we get a female winner this year. I would love for it to help our division grow, and as long as it grows in a positive way, and it brings us some benefits, everyone will be pleased."
Rockstar Spud
The first series of the show was won by Rockstar Spud, who less than two years ago was working in a bank in Birmingham. Now he is living his dream, and is on TV virtually every week with one of the biggest wrestling companies in the world. His success is inspiring, even if our trio have mixed feelings towards him:
James Storm: "We still haven't taken to him, we hate him! Nah, I'm just joking, you know he's a character, people love him. He always goes out of his way, he's very respectful, and he didn't come in with a big head thinking he was better than everybody else or anything like that. He's got the right attitude for sure."
Robbie E: "We got Spud from the show last year; he's annoying, so hopefully the next person to come in is someone who is not as annoying as him! He does what he does well but… he's Spud. If he could shut his mouth a little more and be a little quieter he'd be a lot better for it.
Brooke: "I think everybody loves to hate him. I mean he's brilliant; you can't take that away from him. I love watching him, he's fascinating, and look at his spot – he's on TV every single week and he's standing next to Dixie Carter. It's going to be hard for him to go up from there. Obviously, a championship, but [laughs] I don't know if that's going to happen."
The British Connection and an International Roster
Of course, Rockstar Spud is not the only British representative on the TNA roster. They also have the impressive Magnus, who became the first ever Brit to become the World Heavyweight Champion of any major wrestling franchise in over a century. You can often find the intimidating Bram by his side, another British wrestler who has taken TNA by storm.
However, it's not just the British who are succeeding in TNA, with talent also coming in from the likes of Japan and Mexico. Nonetheless, it's Britain that holds a special place in the hearts of this trio, as they explained:
James Storm: "I think we should definitely come over here more than once a year, for sure, I think we should do one of our big pay-per-views over here, or stay over here for six months and film TV – we could go all through England. The fans over here love it. They're like what the fans used to be like back in the 1980's in the States, they're just crazy and fun."
Robbie E: "The fans show us the respect that we deserve – they appreciate us when we come over here. I wish we did at least two tours a year. These fans are so great they deserve to have a pay-per-view here. They're loyal to us. It's cool to know that because I am on Xplosion [TNA's sister programme, that airs exclusively for UK audiences on Challenge TV] a lot that I get to be in matches that are exclusively for the UK fans, so that's something special for them hopefully."
Brooke: "I think because you guys aren't over-saturated with us – we're only here once a year – that's why the fans go absolutely insane, but I think that if we could come out here three of four times a year and give the fans an awesome show, then that would be amazing for us. We want nothing more than that, to come over here and be able to do that."
New York Success
TNA's upturn in fortunes can be traced back to last month's Slammiversary pay-per-view, which was widely accredited as a huge success. The company has carried that momentum forward, and the atmosphere on display at the recent New York television tapings, the first of which aired on television this past Thursday (Sunday for UK audiences) showed how far the company have come in recent weeks – and why all the hard work put in over the last year is finally paying off.
While Storm, Robbie and Brooke were relaxed about the feedback TNA has been receiving recently, the positivity and momentum surrounding the franchise will come as a relief to company officials, who will be well aware that their television deal with Spike TV is up for renewal later this year. TNA can now build confidently towards its next major pay-per-view, October's Bound for Glory, which will this year take place in Japan.
James Storm: "To me each New York show was just another show. It was a fun crowd to wrestle in front of, the fans were loud and anticipated every move, but as a wrestler I have a job to go out and just wrestle. It doesn't matter if it's in front of 100,000 or a 1,000 people, I go out and do as good a job as I can do. That's what everybody did in New York, we went out and did our jobs and if people want to say it's a great show – then fine."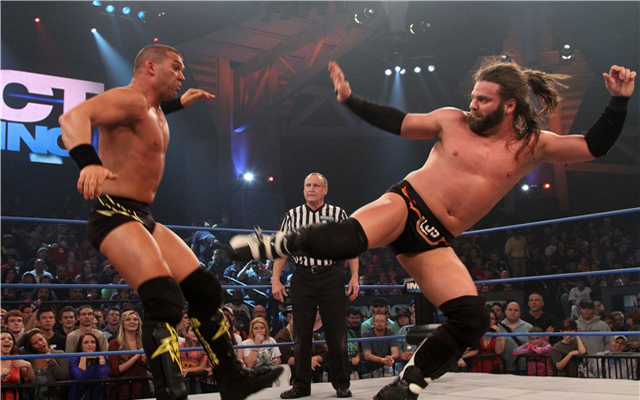 Robbie E: "The thing is – I think all of our shows are great. I think that everyone always gives 110% like they did in New York. I just think that, the New York fans are all hard-core wrestling fans so you feel the energy more, you feel the excitement more. Sometimes, when we're in Orlando, some of the people might be watching TNA for the first time, there's not always that energy that we want."
Brooke: "We can do nothing but go up. I think we're growing, and with Bound for Glory going to Japan it's all so exciting. There's a real high in the locker room and I'm just hoping and praying that I'm on it. That would be an exceptional feeling to go over there and experience that."
Six-Sided Ring and Going Back to the Routes
One thing you're also unlikely to have missed if you watched TNA this past week, is the return of the six-sided ring – one of the things that first made the company famous when it initially burst onto the pro wrestling scene in 2002. While it may be a popular choice amongst fans, as it indicates that the company is returning to its routes, Storm and Robbie explained the difficulties that come with the two extra sides:
James Storm: "I don't really care for it at all. I'm more of a traditionalist: I like the four-sided ring, that's what I grew up watching. I understand why they would bring it back because it's something different, but for me they should maybe use it just once or twice a year on certain pay-per-views just so they have a different feel. You give it three or four months and it's not going to be new anymore, it's going to be the same old six-sided ring.
"A lot of the guys we have now have never wrestled in it before the New York shows. They found out very quickly that it's hard, a lot harder than the four-sided ring. The ropes are shorter because there are more sides, the turnbuckles are at more of a 45 degree angle rather than at a 90, so they're harder to stand on. It takes some time to adjust to it."
Robbie E: "I don't like it, I think when you think of pro wrestling you think of four sides. I'm also not the sharpest knife in the draw, therefore when you add extra sides it becomes more confusing for me. I try to shoot a guy to the ropes and he ends up in the turnbuckle and that's not a good thing for Robbie E, Jessie or Zema [his partners in the Bro Mans stable] – we get hit in the head a lot and party a lot so we want to keep things as simple as possible."
Dealing with the Haters
TNA wrestlers know better than anyone what it's like to deal with their fair share of discouragement. The company was in something of a mini-slump mid-way through last year, with criticism seemingly raining in from all sides. However, that criticism has turned full circle, and even the most hardened of TNA haters are slowly but surely being won over to the fact that the franchise does represent a viable alternative to WWE.
The simple fact is that TNA are competing against themselves, they've not trying to be WWE, because they know that they would be fighting a losing battle. As Storm explains – "WWE is the machine. It's going to be hard to ever take them down, because they're light-years above everybody." And quite rightly, our trio have very little time for those that want to doubt them:
James Storm: "No matter what the internet says or whatever else, we're a close family and there's never really any tension backstage. Nobody is ever really down or has the booboo face, nobody is griping about the company, because once somebody starts with that cancer it just spreads. Me, Samoa Joe and Bully Ray we put a stop to all that real quick, we're like: look, this isn't going to get any better if you act like that. You need to go out and perform and make this company the best you can."
Robbie E: "No matter how great something is people are always going to find something to bash. People they just want to talk, they have to have one thing they like and one thing they dislike, it just makes them feel good to talk down about something. If everything they said that they wanted happened then they'd find something else to complain about. The internet fans, the internet wrestling fans, are such a small percentage of our audience that it really doesn't matter anyway. It doesn't faze me and I don't think it fazes anyone else."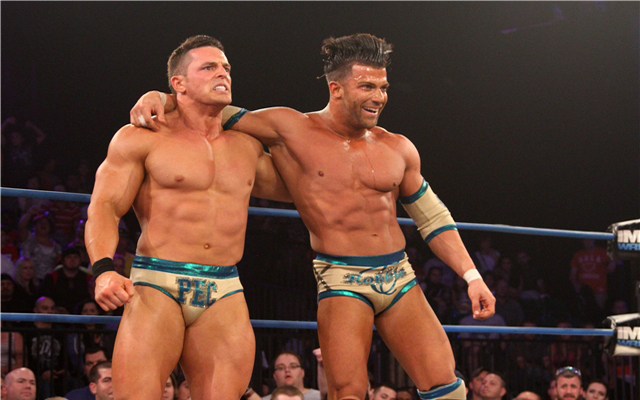 Brooke: "That's just what they are though, they're haters, and they were put on this earth to hate. Please hate on. They're still talking about us, and look whose watching. It comes with the territory, trust and believe."
Individual Aspirations
Of course, as well as wanting to see the company do well, each of our trio have their own personal aspirations. So to finish, here is what Storm, Robbie and Brooke are looking to achieve moving forward:
James Storm has been with TNA since the company was born. The Cowboy is a former TNA World Heavyweight Champion, as well as one of the most successful tag team wrestlers of all time, having been an integral part of both Beer Money Inc., alongside Bobby Roode, and America's Most Wanted, with Chris Harris. Coming off the back of an epic feud with his close friend and TNA's breakout star, Gunner, which really helped build the character and popularity of his in-ring opponent, here is what Storm is hoping for moving forward:
"Anybody who is a singles wrestler has the goal of being the World Heavyweight Champion. I feel like I've been out of the picture for too long and now I want to get back in there and take over the company that I basically helped start. I've really had my run with tag teams. Like you said, America's Most Wanted, Beer Money, it's pretty hard to top those two tag teams. If anything were to happen, I'd like to see me and Bobby get back together and have a good run as Beer Money again."
Robbie E is one-half of the two-time TNA Tag Team Champions – the Bro Mans – with whom he and his partner Jessie Godderz have enjoyed great success. They have their own personal DJ – Zema Ion – and the trio are practically inseparable. He has already tasted success in single's competition having been both X Division and Television champion, and now Robbie has his eye on World Title glory:
"I was X Division champ; Television champ, two times Tag champ and I think there's only going up from here. I think those higher up like Dixie Carter and everybody else knows that Robbie E is the future. I'm 30-years-old and in the best shape of my life, I'm a great looking guy, so I think I'm going to get the shot that I deserve at some point soon."
Brooke is a part of the extremely talented TNA Knockouts division, which she admits is as strong as it's ever been following the returns of Angelina Love and Madison Rayne within the last year. Throw in the likes of Gail Kim, Taryn Terrell, Brittany and Velvet Sky, and she knows all too well that she is going to have her work cut out if she wants to recapture the Knockouts title. However, she is a determined woman and, following some time out to concentrate on other projects, she would like nothing more than to have gold around her waist once again:
"I think the division is at an ultimate high, which is going to make it a little bit more difficult for me coming back in to find my spot and get to the championship. But trust me I will do anything to get there. I'm tired of sitting at home and I'm tired of not being seen. I think it's going to be my time, I'm going to make it my time, put it that way."