---
 Thermal images of the Premier Leagues newest stars.
Check out these heat maps of Christian Eriksen and Mesut Ozil's debuts for their new clubs…
This new technology allows us to see the impact that a player has during the entire game. It works by pointing out where a player does most of his work on the football pitch. The map gets 'hotter' when the player has the ball in certain areas.
Ozils heat map ( both maps from squawka.com) is below.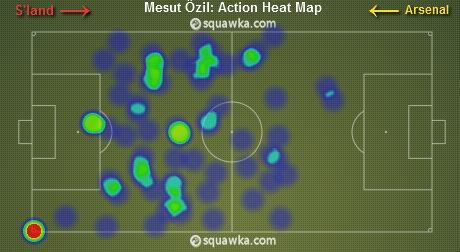 The heat map show's how busy the Germans debut has been, and explains how effective the Germans free running style is. It took him just 11 minutes to assist Oliver Giroud to score Arsenal's opener.
Meanwhile Spurs' new signing, 21-year-old Danish midfielder Christian Eriksen, had a similar impact in the game against Norwich.
Eirksen's heat map: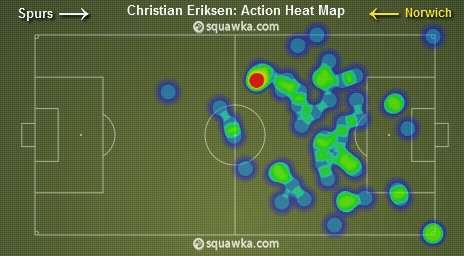 The Dane also assisted a goal on his debut, and saw considerably more of the ball than his German counterpart.
Although Ozil will get the headlines, mainly due to his £42m fee, Eriksen's all-action display was arguably even more impressive. The map shows how heavily he was involved in the final third, and used his short intricate passes to dictate Tottenham's comfortable victory.