---
Winger again in trouble with former teammate Josh Dugan with him at Cronulla bar. 
New South Wales and Canberra star Blake Ferguson has formally been charged with indecent assault after an incident with a female patron at a Cronulla pub on Saturday night.
Ferguson has been granted conditional bail to appear in Waverly Local Court on July 16, a day before State of Origin III.
The NRL reacted swiftly with the code announcing they has suspended Ferguson's registration suspended for "repeated behavioral issues involving the abuse of alcohol".
NRL boss David Smith said he wants to make a stand against violence against women.
"It's time for people to understand that the game isn't going to accept this sort of behaviour," Smith said.
"The first step in Blake's case is to make a clear call in relation to Origin.
"Tomorrow we will consult with the Raiders to determine the minimum period we would look at in terms of suspension."
The Blues winger was drinking with former Raiders teammate Josh Dugan in a Cronulla bar with the former reportedly being heavily intoxicated.
A witness who spoke under the condition of anonymity, said Ferguson was denied entry by security staff only to see him use a backdoor which saw him gain access to the pub through the kitchen.
When Ferguson returned to the main area of the bar the alleged incident is meant to have occurred, with the Blues star leaving soon after.
No charges have been laid at this stage against either Dugan or Ferguson and the pair were at NSW training as scheduled, before meeting with team offcials.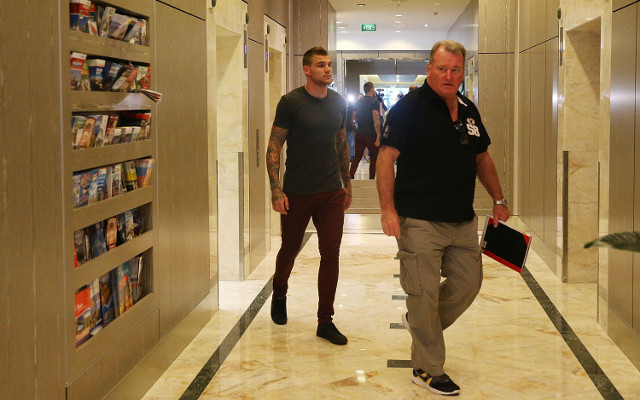 NSW coach Laurie Daley read a prepared statement confirming both Dugan and Ferguson were involved with a police investigation.
"We have been made aware of an allegation and have been in contact with the NRL's integrity unit," Daley said.
"We will continue to cooperate with the police investigation.
"Josh Dugan was with Blake at the time, but there has been no allegations made against (Dugan) and we will update you as the matter continues."
CCTV footage from the bar has been handed over to police who will pursue the matter further, with the New South Wales Rugby League board indicating they will cooperate fully.
The latest incident comes after Ferguson was stood down by the Raiders and fined $10,000 for a now infamous drinking session with Dugan on their roof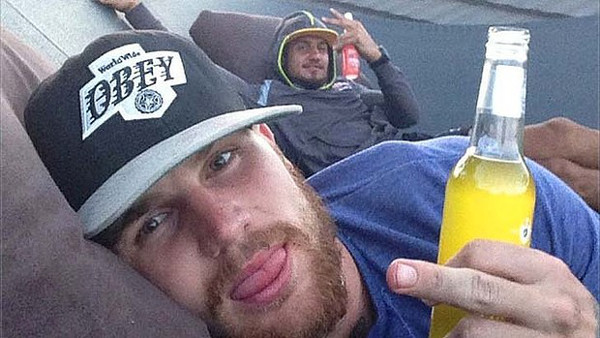 The pair took photos of themselves drinking when they were supposed to be abstaining from alcohol as they recovered from injury.
Dugan was sacked by the Raiders for repeated infringements with the drinking session with his teammate being the last straw for Canberra.
Ferguson returned to the Raiders side and vowed to turn his form on and off the field around, which came to fruition as his play seeing him picked for his first State of Origin side.
Dugan was also granted a second chance at State level after signing with the St George Illawarra Dragons, where his impressive play saw him picked by Daley as the Blues' fullback to cover the injured Jarryd Hayne.
However, it is yet to be seen if the latest scandal will have any affect on their place in the Blues side or their tenure with their respective clubs.