---
A pair of Nike basketball shoes said to have been worn by Michael Jordan back in the 1984-85 season are set to hit the market in an auction next month.
READ MORE:
Kobe wanted to join Jordan at Wizards: Legendary pair could have played alongside each other.
Kobe passes Jordan on all-time scoring list: (Video) Huge NBA moment as Bryant makes history.
Jordan vs Kobe: (Video) A look at their battles and similarities.
The shoes are understood to be the earliest NBA game-worn trainers of Jordan's, with a ballboy for the Los Angeles Lakers revealing that he asked the Bulls star for his sneakers after a game in the 1984/85 season.
Jordan reportedly told him that he would be switching the pair he had on for warm-ups with a different pair which can be seen below, and as a result of his persistence he is likely to make good money from his acquisition.
SCP Auctions vice-president Dan Imler revealed that he can realistically see the shoes drawing bids beyond $50,000, while the infamous trainers Jordan wore during the "flu game" sold for $104,765 in 2013.
A pair of shoes worn by Jordan in his rookie season sold for $31,070 back in 2013 too, and so the precedent is certainly there for another huge sale in April.
"They were in my mom's closet," Khalid Ali, owner of the trainers, said as reported by ESPN. "I didn't really talk about them much. People who met me after my teenage years don't even know I have them."
The auction begins on April 8 and will end on April 25, and ultimately the trainers will go to a long-time and passionate fan of the man regarded as the 'Greatest of all Time', with Jordan going on to secure countless deals with Nike for his 'Air Jordan' brand over the years.
After one of the most successful NBA careers in history both individually and with the Bulls, Jordan is currently the owner of the Charlotte Hornets and continues to be involved in the sport that he loves.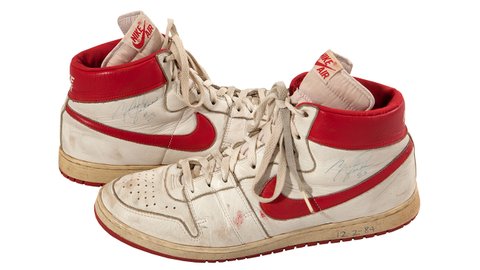 Image courtesy of SCP Auctions.