---
'The King' says it's time to get down to business.
As if it was pried from the pages of a pro-wrestling script – the bad guy turns good again.
'The King' who abdicated his throne to seek riches in another city and was run out of town by his followers is now returning to rebuild his empire and give the people, who perhaps know him best, what they have wanted for decades.
LeBron James' return to Cleveland goes beyond sport, beyond money and terms of contracts.
It's a story of redemption and an insight into a mind that hopefully will be marveled at by basketball and sports fans alike when the clarity that only comes with years passing by and the absence of what they bring to the game becomes acute.
James was seemingly not happy with rolling to another playoff run in the East, battling with perhaps the Bulls, Nets, Pacers or Raptors along the way and maybe adding another title in Miami.
He has set himself a much bigger goal – winning it for his home, as he says hello again to a place his heart never really left.
As he has often said he's "just a kid from Akron".
However, James before and especially after his decision to sign again with Cleveland, shows that no matter what happens for the rest of his career he is nestled comfortably alongside NBA singularities Bird, Magic, Jordan, Wilt, Russell as the best to ever pick up a basketball.
But why now?
Why leave an organisation in Miami that would re-invent the wheel if that's what it took to keep James in South Beach?
As if he could see the future, James knew the Heat would most likely be competitive in season 2014-15, and maybe go close to winning it all again.
But it was not going to be the team that won 27 games in a row.
It wasn't going to be the team that made other pros look foolish on any given night and launched James, Dwayne Wade and co. into the realm of men among boys.
A cross-section of this feeling from James can be seen in Game 5 of the 2014 Finals series against the San Antonio Spurs.
Trailing by seven after half-time, James and the Heat hit the floor and their best player looked to be playmaker rather than spark a comeback himself.
Every pass, and every subsequent missed shot drove the message home further to James that this is the team he would have to re-sign with for perhaps the best three to four years of his career.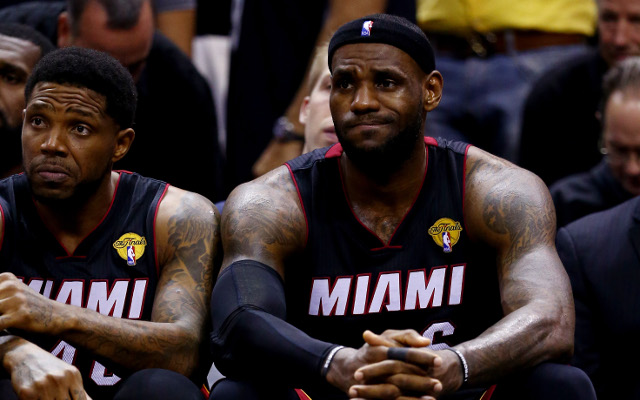 This was the team he would only have to carry more on back-to-back round-trip games, carry more when injuries hit older bodies or when players are rested so they'll be fit for the playoffs.
Wade missed 28 games during the regular 2013-14 regular season, which added more miles on James' tires as he was forced to step up and be the everything man, so the Heat could get the seed they needed for the playoffs.
They amnestied Mike Miller, who is a favorite player of James', rolled the dice on Greg Oden and Michael Beasley seemingly under the illusion that one player's knees would allow him to play 10 measly minutes, while the other would stay focused for more than 10 minutes.
Neither of which panned out.
This was the team that James was handed to try and beat the beasts in the West?
Beat a complete team like the San Antonio Spurs that showed James he could do a lot on a basketball court, but he needed more help around him.
The deals made by Heat GM Pat Riley to bring Josh McRoberts and Danny Granger, announced just before James signalled his intent to re-sign with the Cavs, looked like a desperate attempt to give LeBron an extra set of hands.
However, it's unlikely that they would have been able to keep up with the standard that James forces himself to be at every minute of every game, because it's what is expected of him.
And if his teammates couldn't keep up with him, then he was gone.
As game five and the NBA title slipped out of his fingers this season, James looked like his gas tank only had fumes left in it and there was seemingly only one place he could top up his inspiration – home.
However, from the moment Cleveland was being mentioned as a possible location for one of the biggest names in world sport, there was no way he couldn't sign there again.
If James' and his "talent" had decided to prop up on a chair on South Beach again for the next three years or so, the kid from Akron may as well have walked into the home of every remaining fan of his in Ohio, ripped out their heart, showed it to them, and then drained it from beyond the arc.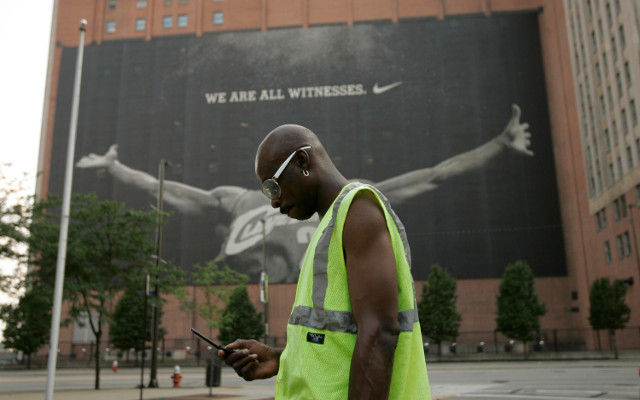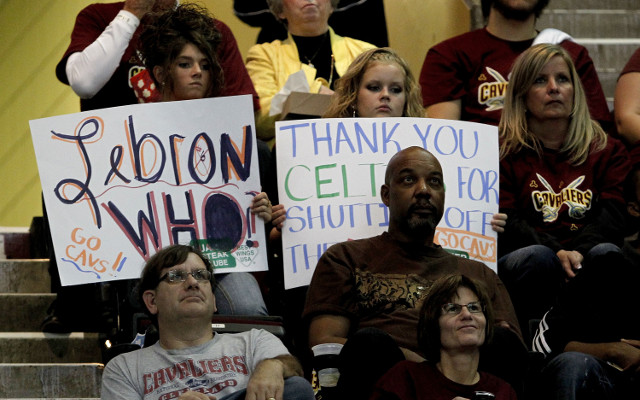 That is what it would have felt like for Cavs fans if their emotions were toyed with again.
If James had treated Cleveland as the security blanket ex-girlfriend on the side, only to return to the trophy wife who was starting to show her age, the first love would have been on suicide watch.
Fans can, will and no-doubt are already criticising James' decision to come home, but for everything that was wrong with "The Decision" four years ago, he more than made up for his errors with "The Essay".
There was no fanfare, no stage with fireworks and glitter.
In fact sightings of James during free-agency were infrequent and consisted of him walking from an Escalade to a meeting room.
Much Like Derrick Rose, Tim Duncan and Kevin Durant in recent seasons their contract renewals happened behind closed doors and James has had to have learned from the respect gained for those stars about how they handled their business.
"The Essay" will go down as a defining moment in James' career, despite how many titles he may or may not win in Ohio.
Because it shows why he is making this choice – and anybody who doubts his sincerity simply will never want to understand the genius they are witnessing in the form of the small-forward who can do it all.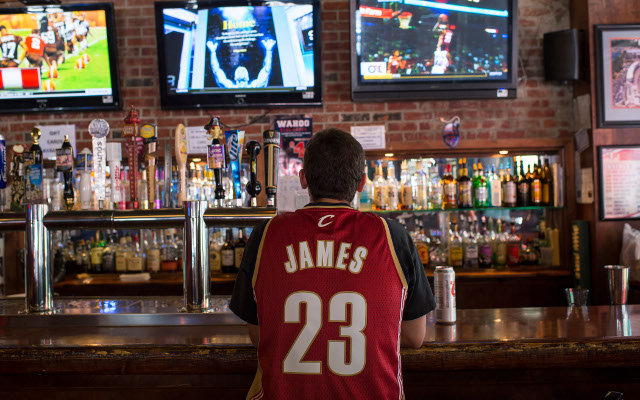 "I'm not having a press conference or a party. After this, it's time to get to work."
That simple line from James says he knows he has a mountain to climb in front of him but also of the maturity he has gained in the past four years.
He has not promised Cavs fans "five, six, seven rings" like he did before to those who wear black and red.
"I'm not promising a championship," he said.
"I know how hard that is to deliver. We're not ready right now. No way. Of course, I want to win next year, but I'm realistic.
The game humbled James after his boastful proclamation, sitting alongside Wade and Bosh on July 20, 2010.
The league showed that over 82 regular season games and more than 20 in the post-season, it won't hesitate to kick you while you're down if you think you're bigger than the NBA – even if your name is LeBron James.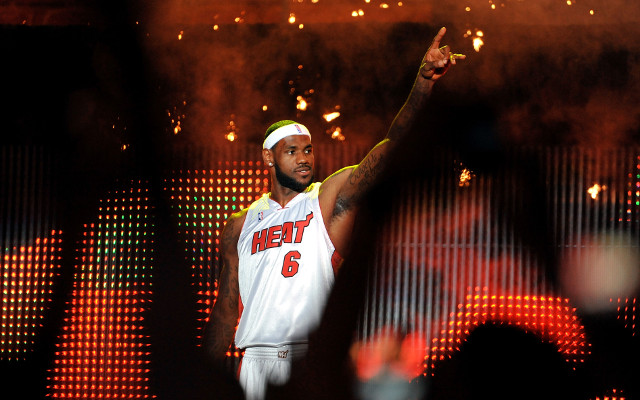 "It will be a long process, much longer than it was in 2010. My patience will get tested. I know that. I'm going into a situation with a young team and a new coach."
He knows it will take time but he is starting with a rich base and one ring is all he is asking for – to start with.
Regardless of the class and humility that came with 'The Decision 2.0' James will continue to be one of the most critised and analysed athletes on the planet.
Cursed with living in the age of social media, James is forced to play through countless more ways genuine fans and keyboard warriors alike can try and lift the lid and confirm what they want to think about him.
The same bile that was aimed at Jordan, Bird and Magic of a bygone era only reached them through such limited means – in the 80's and 90's there were far fewer personal soap-boxes so-called experts of the game could stand on.
And as sure as the sun rises tomorrow, there will be people out there who will again attack James.
'He's running' or 'he couldn't hack it in Miami' that the 'bought' team in Miami fell apart and rumours and innuendo of a falling out between the big three will sit well along side other sporting conspiracy theories.
Can't we just accept the fact that James has strong roots to Ohio, always wanted to play there again one day and saw the ultimate opportunity to play alongside three other number one draft picks and earn a paycheck close to what he is actually worth?
To the people that say no, I pity you, as you will never be able to set aside your petty hang-ups and allegiances and appreciate what James can do with a basketball in his hands.
When else are we going to see a 6'8″ 250 pound small forward who can run the point, who can step out and hit the three, who can post-up down low against almost anybody and can guard on the perimeter?
If you could combine parts of Bird, Jordan, Magic and perhaps Pippen into one body you might be getting close to the 'Kid from Akron'.
And for people still saying James will not be better than Jordan – stop, just stop.
fanatix realises that such conversations have driven arguments around the world, across eras and generations and they will never die down to a dull roar.
But there will be never another Jordan, never another Magic or a Bird and what we no doubt will see in coming years and hopefully realise, there will never be another James.
After getting the title monkey off his back in 2012, which was seemingly the last bastion of criticism for anti-James fans, enhancing his legacy was the only thing that mattered for LBJ and ensuring his place on NBA's Mount Rushmore.
And by coming home he already has started to carve his place out amongst that elite company.
Buckle up, the next few years should be fun.