---
Yes it is as awesome as it sounds for rugby union supporters.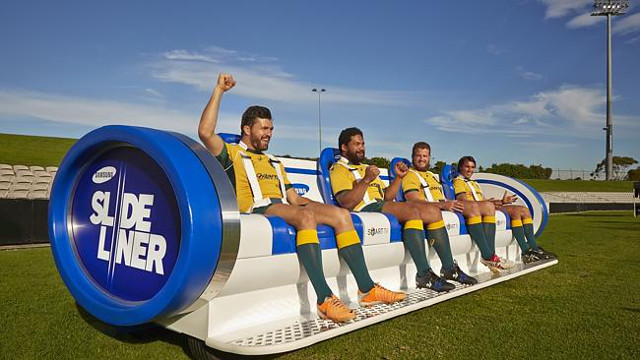 Welcome to the Side Liner.
This awesome idea will allow fans of the Wallabies and All Blacks to get as close to the action without lacing up their boots.
The Slide Liner move along the touchline of the game at 20kmh giving fans a unique view on the clash between Australia and New Zealand at ANZ Stadium on August 16.
"It's like Samsung Gold Class, like you're at the cinemas but instead you're watching a football game, it's certainly the best seats in the house," Adam Ashley-Cooper said.
"This has certainly never been done at any sporting venue across my travels. I have seen a spa, a jacuzzi on the side of a football field in Durban, but this is a drier, much nicer option."
Halfback Nick Phipps added: "I liken it to the Olympic 100m sprint camera just sliding up and down the field, it's one of those money-can't-buy things, it will be good for the winner.
"It's probably one of the best games in the world, the Bledisloe, and this is debuting there."