---
With Duke heading to the NCAA Championship yet again, one of the school's all-time legends stopped by to celebrate the Final Four win.
SEE MORE:
(Video) NCAA March Madness: Duke halts Michigan State's underdog run to advance to NCAA Championship
NCAA March Madness 2015 round-up: Final Four set including Kentucky and Duke
UFC star Ronda Rousey says she would win a fight with The Rock
The morning after the Duke Blue Devils crushed the Michigan State Spartans to clinch their spot in the NCAA Championship game, Duke legend Christian Laettner joined the team at breakfast wearing a "Haters Gonna Hate" tee shirt.
At an Easter Sunday breakfast celebrating Duke's win over the Spartans, the Duke Blue Devils' Instagram account caught up with the victorious team and snagged a photo of the team as well as the Duke legend (wearing the hat, back row).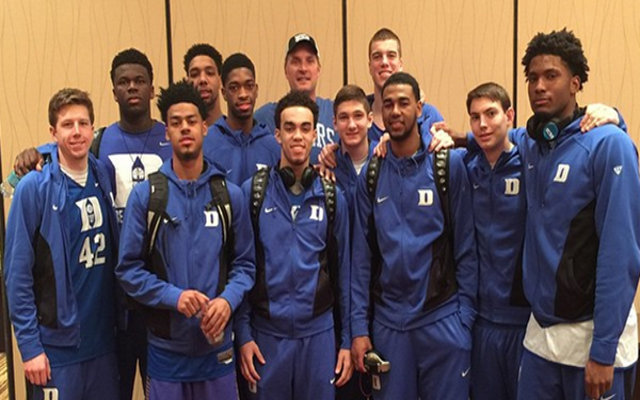 Laettner helped lead Duke to back-to-back NCAA Championships in 1991 and 1992. He is the owner of two of the greatest shots in college basketball history and was the only college basketball player to be a member of the legendary 1992 Dream Team that won Gold in the Olympics.
Duke is seeking it's 3rd NCAA title since Laettner graduated. The team won the title in 2001 and in 2010 – all under current head coach Mike Krzyzewski.
Laettner was recently the subject of an ESPN "30 For 30" film entitled "I Hate Christian Laettner,"  chronicling the hatred many people in the sports world – including Duke itself – have for the former Duke star.