---
Formula 1 ace Lewis Hamilton has opened up in an interview with Men's Health, discussing his stunning career, but confessing that his family is more important than anything else in his life.
Having recently split from long-term, and on-off, partner Nicole Scherzinger, he doesn't seem to be showing too many signs of heartbreak, stripping off to display his extensive body ink.
SEE MORE:
F1 star Lewis Hamilton to sign new Mercedes AMG deal worth £27m a year
Lewis Hamilton loses it with pit engineers during Malaysia GP loss
Nico Rosberg's uncomfortable exchange with Lewis Hamilton after claims German blocked teammate
On his tattoos, the 30-year-old said,
"Family is everything for me, so I have "family" written on the top, across my shoulders.
"'Faith', obviously. And I have 'powerful beyond measure' written on my chest – it's a short bit I took out of a quote from the writer Marianne Williamson.
The two-time F1 champion continued: "I love my ink.
"They all have a meaning. I'm very in strong in my faith, so I wanted to have some religious images.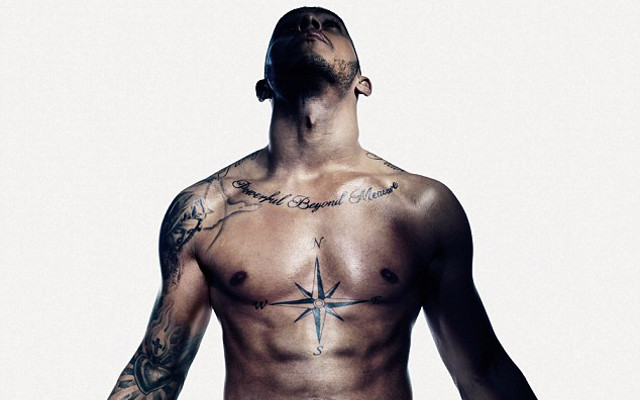 What's more, in speaking of the intensity of racing, he was defiant in dismissing claims that Formula One isn't as physically demanding as other speaks, saying, Your heart rate is 150, 160 through the whole race. On qualifying lap your heart rate can be up to 180, 190 under tough conditions.
"Every year you've got to be as light as you can. There's a certain weight limit, depending on how heavy the car can be.
He added: 'Last year I had to lose six kilos, I went from 73kg to 67kg. It was hardcore; I didn't have much to lose as it was. So I train a lot."
Here's a behind the scenes look at his cover shoot for the magazine: