---
Los Angeles Galaxy forward Robbie Keane has a famous fan and relative – former Smiths singer Steven Patrick Morrissey.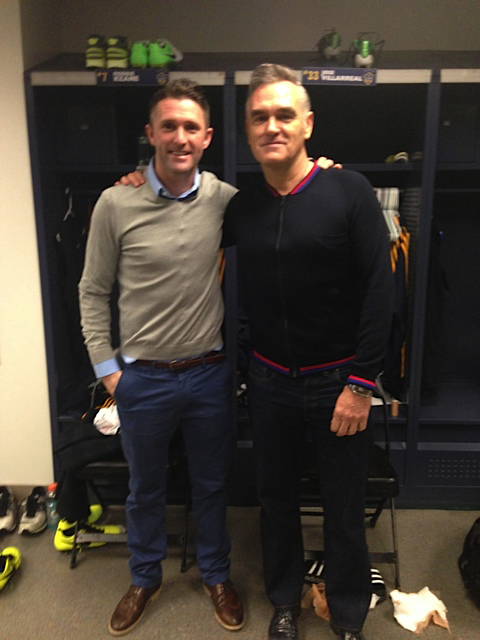 Former Smiths frontman Morrissey has written a gushing blog post about his recent trip to see LA Galaxy take on Club Tijuana where he saw forward Robbie Keane in action.
In doing so, he revealed that he and Keane are related, with the former Tottenham Hotspur, Liverpool, Celtic, West Ham United and Aston Villa striker a distant cousin.
The singer of classic tracks such as 'This Charming Man,' 'How Soon Is Now' and 'Heaven Knows I'm Miserable Now,' Morrissey isn't typically associated with football, but has actually even written songs about it.
'We'll Let You Know,' a cut from solo album 'Your Arsenal,' clearly discusses hooliganism.
"We're all smiles/Then, honest, I swear, it's the turnstiles/That make us hostile" is one particularly poignant lyric.
Morrissey's post about Robbie Keane has the great songwriter in classic form – comparing the Irishman to an astronaut and a lion, and referencing a couple of his own lyrics:
It was a joyous head-storm to attend LA Galaxy -v- Club Tijuana last night and to see captain Robbie Keane score in the fourth minute. Why, exactly?
Well, family tree aficionados will be aware that Robbie and I share the same Irish blood; his late grandfather (Thomas Nolan) being my own father's cousin. In filial terms the Irish blood, English heart genetic between Robbie and I is evident – his chin is my chin, my chin is his. Robbie was raised on Captains Road (as was my mother) in Crumlin (Dublin), before he was shipped out to Tallaght. He is a gentleman of the highest caliber (or, if you must, calibre), and to watch him on the pitch – pacing like a lion, as weightless as an astronaut, is pure therapy. Robbie, the pleasure, the privilege is mine.