---
Brisbane Broncos star abused after player his former club in round one.
After seeing his son racially abused on social media after playing his former club, Ben Barba's father Ken has called on the NRL to stamp out abuse of its kind in the code.
The verbal came via Ben Barba's  official account from an 18-year-old registered player from Dapto, who called the former Canterbury Bulldogs player a "filthy abo."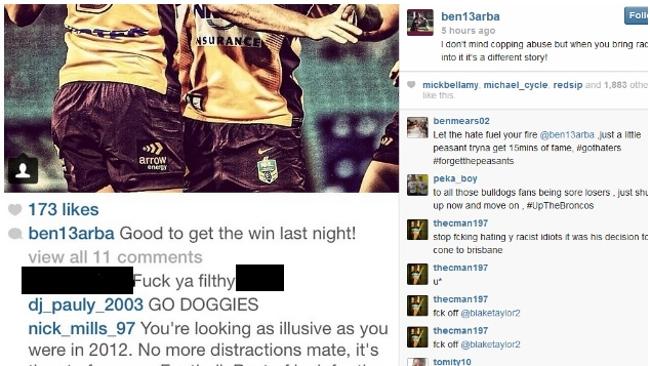 Ken Barba said he would like to see the NRL take a tough stance on the issue, the same as the Sydney Swans, Collingwood Magpies and the AFL did when Adam Goodes was racially vilified at a game last season.
"The game needs to take a stand on this," Ken Barba said.
"I'm very disappointed, I know last year during games he was spat on and he's sick and tired of the abuse.
"He's constantly being degraded and I hope the NRL can find this person and do something about it because enough is enough.
"He can take a fair bit but when it comes to racism it needs to be stamped out pretty quick.
"He's been called a filthy Abo, if they catch this person the NRL should put them up like they did to the young girl in the AFL when Adam Goodes was racially abused."
Because the 18-year-old at the centre of the drama is a registered player, the NRL has ordered Country Rugby League to look into the player and his club.
Barbe copped a hostile reception when he ran out for his new club the Broncos, with his former teammates opposite him.
And while it was expected there would be a certain level of hostility that any player faces in the same situation, Ken said it had to be stopped before it grew to be an even bigger problem in the NRL.