---
Arsenal dazzled their home fans on Saturday by thrashing Ligue 1 runners-up Lyon 6-0 in the Emirates Cup.
Olivier Giroud, Alex Oxlade-Chamberlain, Alex Iwobi, Aaron Ramsey, Mesut Ozil and Santi Cazorla scored the goals as the Gunners stormed into pole position in the two-day tournament.
Arsene Wenger's men will face Wolfsburg tomorrow, but how did they play today, on an individual basis?
Here are player ratings for each of the 11 starters, courtesy of top Gunners blog All Arsenal…
SEE ALSO:
Celebrity football fans: PORNSTAR Man Utd lover, ROYAL Arsenal supporter & Chelsea-mad ACTOR in top 10
Video: Arsenal 6-0 Lyon – Oxlade-Chamberlain scores fine goal as Gunners earn 9 points in Emirates Cup

Emiliano Martinez – 7/10
All Arsenal says: "It was a bit of a surprise to see Martinez's name on the teamsheet, with Petr Cech the obvious choice to start. The young Argentine did an excellent job in goal though, making a couple of key saves early on when the scores were level.
"He wasn't given much to do after we took the lead, but when he was called upon he did what was needed."
Mathieu Debuchy – 7/10
All Arsenal says: "The Frenchman arguably still hasn't done enough to suggest he should reclaim his starting spot from Hector Bellerin, but he was solid down the right hand side."
Kieran Gibbs – 6.5/10
All Arsenal says: "Nacho Monreal deservedly usurped Gibbs as our starting left-back last season, and we've seen nothing from the Englishman to suggest that should change this season. He didn't have a huge amount to do over the course of the game, but will need to be better if he's to displace Monreal."
Per Mertesacker – 6.5/10
All Arsenal says: "The giant German had very little to do, but was almost exposed a few times due to his lack of pace. Gabriel will be pushing for regular first team football this season, and Mertesacker should be worried."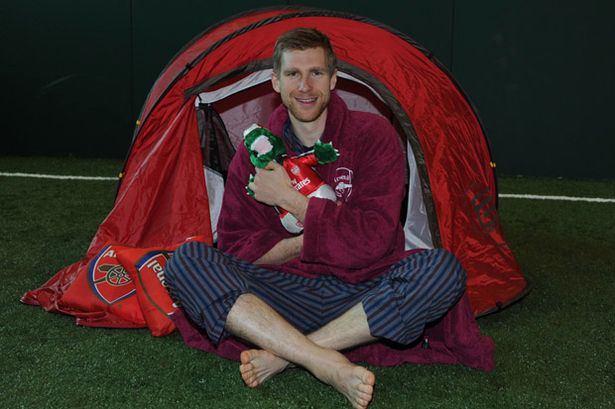 Laurent Koscielny – 7/10
All Arsenal says: "Lyon hardly tested our defence, but whenever Koscielny was called upon to mop up he did so with aplomb. He raced out to intercept on a number of occasions, and anticipated and read the game well."