---
Dana White indicates both parties have expressed interest in locking horns this year.
Not too long ago a fight between Anderson Silva and Nick Diaz was something that would only happen in a video game.
That is how unlikely it was.
But now as the career's of the men continue to take interesting arcs there is a chance mixed martial arts fans could see two of the biggest draw cards in the UFC throw down for the first time.
Speaking ahead of UFC 174 this weekend, Dana White said he has been in talks with both camps and said both men have hinted they would like to fight each other.
"I know they want it," White said. "I think that's a very interesting fight, so we'll see what happens."
The statement could be White simply working his promotion machine to a scrum of journalists, giving them what is, understandably, a tasty soundbite.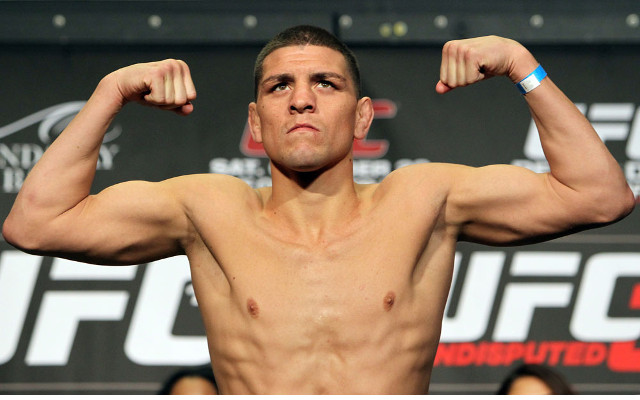 Or it could come to reality and give UFC fans the closet thing they have to a superfight coming down the pipeline with the tops of several title trees being shaken dramatically in the last year.
However, there are still many roadblocks that need to be cleared before Silva and Diaz both sign on the dotted line.
Silva has not fought since last December as he continues to recovering from that horrific broken leg, suffered in there-match against Chris Weidman for the middleweight title at UFC 168.
Diaz has been out of action for even longer, having not stepped inside the octagon since March 2013 when he lost to then welterweight champion Georges St-Pierre.
Since then the notoriously difficult Diaz has knocked back several fight offers as he bides his time on the sidelines in what he is calling retirement.
"Anderson isn't coming back until December," White said. "It's far enough that I don't need to talk to him yet. If Anderson wants to fight Nick, and Nick wants to fight Anderson, why would I say no?"
If the fight went ahead the weight for both men will be a topic of concern with Diaz most likely to have to come up, as Silva, who has at times fought light heavyweight, would simply not be able to cut that much weigh to meet the American at 170.
"I think it would be tough for Anderson to make 170," White said. "A few years ago, he was saying he could do it, but I don't know about now. He's not getting any younger. It might be the end of this year, or it could be next year. I don't know."