---
Wladimir Klitschko has revealed his belief that Anthony Joshua is the future of the heavyweight division ahead of his return to the ring on Saturday night.
READ MORE:
Joshua vs Gavern fight time: Live stream and preview as AJ returns.
Joshua vs Gavern weigh-in: (Video) Joshua towers over his opponent.
Joshua vs Gavern press conference: (Video) Gavern turns down face off.
Joshua returns to action in Newcastle this weekend to face American Jason Gavern, while his next fight has also already been scheduled as he will face Kevin Johnson at the O2 in London on May 30.
After a spell on the sidelines with a stress fracture in his back, Joshua will be itching to get back in the ring after his last devastating performance came against Michael Sprott in Liverpool last November, and he will want to continue his ascent of the rankings and his pursuit of a world title.
While the heavyweight division is now scattered with talent, particularly in the UK with David Price, Tyson Fury and Dillian Whyte all on their paths towards world titles, Klitschko remains the king of the weight class with the WBA, IBF and WBO heavyweight belts currently in his possession.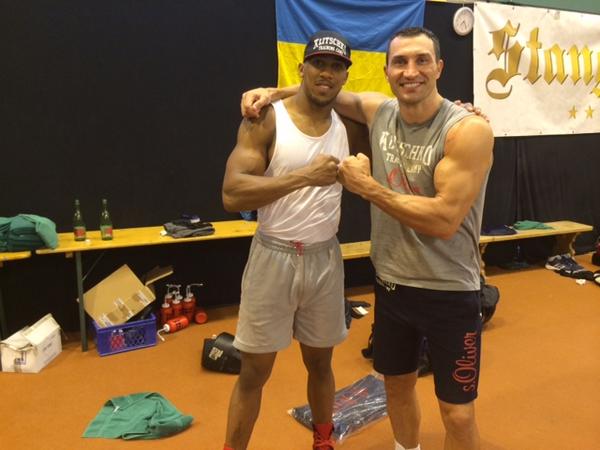 Image courtesy of Wladimir Klitschko's official Twitter account.
The Ukrainian will make his next defence against Bryant Jennings in New York in April, but he has spoken about Joshua who he faced in sparring not long ago.
"I haven't seen an athlete as athletic, as big, as fast, as talented as Anthony and if he's going to continue the way he is, developing himself, the future belongs to him," he said, as reported by the Telegraph.
Joshua has a 10-0 record with all wins coming by way of knockout, and the 25-year-old is on the brink of stepping up the class of his opponents as he looks to head into phase two of his development with domestic grudge matches on the horizon.
It is unlikely that he will fight for a world title this year, but there is no denying the talent that Joshua possesses and that is reflected in his rankings with all of the governing bodies so early in his professional career.