---
Gunners falling behind rivals in transfer market again.
SEE ALSO: Angel di Maria Manchester United transfer moves step closer.
After so much early summer optimism with the big-name signings of Alexis Sanchez and Mathieu Debuchy, combined with the superb promise of youngster Calum Chambers bought in from Southampton, things are already looking a little less rosy for Arsenal just two games into the new season.
As well as their own triumphs in the transfer market, Gunners fans could sit back and laugh as their rivals struggled badly to strengthen.
Last season's surprise title contenders Liverpool lost their most important player in Luis Suarez and moves to sign replacements in the form of Sanchez (whilst still at Barcelona) and Loic Remy (whose move to Anfield fell through at the last minute due to a failed medical) bore no fruit.
Manchester United lost experienced players in Nemanja Vidic and Patrice Evra without great replacements and missed out on a host of big-name targets that they needed to become title challengers again.
Now as we head into the final week of the summer transfer window, Liverpool and United could be about to do the business that puts them narrowly ahead of Arsenal in terms of overall squad depth and quality.
Mario Balotelli has joined the Reds in a £16m deal (a bargain that Arsene Wenger should have pursued in a bid to improve on Olivier Giroud as his lone striker), and Angel di Maria will sign for United from Real Madrid for around £60m.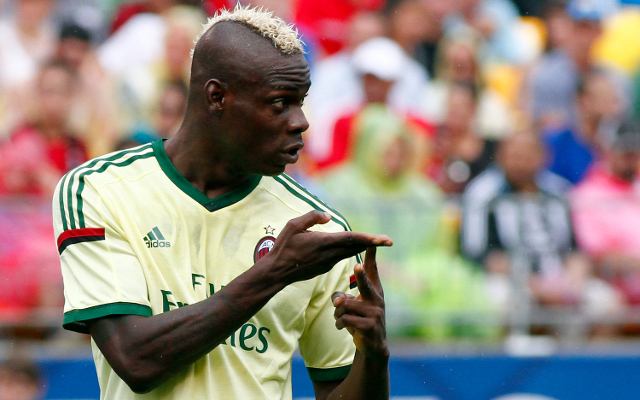 The latter is certainly an expensive signing and not, as the price would suggest, twice the player that Sanchez is, but still one who will take United's attacking game to a new level.
A team that struggled so badly in terms of creativity last season have struck a deal for a player who notched up more assists than anyone else in Europe's top five leagues (26 in all competitions). Mission accomplished.
For Arsenal though, it is clear that the same old problems remain. After four unconvincing points against Crystal Palace and Everton from their first two games, the team still looks suspect defensively and lacks that true defensive midfield shield to aid their back four.
Efforts have been made to sign di Maria's Madrid team-mate Sami Khedira, but again the Gunners have fallen short of being able to see an essential big-name transfer through.
Manchester City and Chelsea may be shoe-ins for the top two places as United and Liverpool faced a summer of rebuilding, but with recent developments they now arguably look in better shape to challenge than Arsenal, unless Wenger can pull something else out of the hat before the transfer window slams shut.
SEE ALSO: Mario Balotelli Liverpool deal on verge of completion.
SEE ALSO: All the Premier League done deals so far.