---
Mamba enjoys monster night to spark Lakers play-off hopes.
It may be at the end of next season, or it may be in five years in time. Regardless of when Kobe Bryant decides to call time on his glittering career, nights like those in Portland on Wednesday are a reminder of just how great he is.
With a season-high 47 points, Bryant put the Los Angeles Lakers a game ahead of rivals Utah for the eighth and final play-off berth in the Western Conference.
Both ball clubs have three games remaining, but with Bryant in this type of form on the offensive end,  it is difficult to see any team denying him a chance to shine in the post season.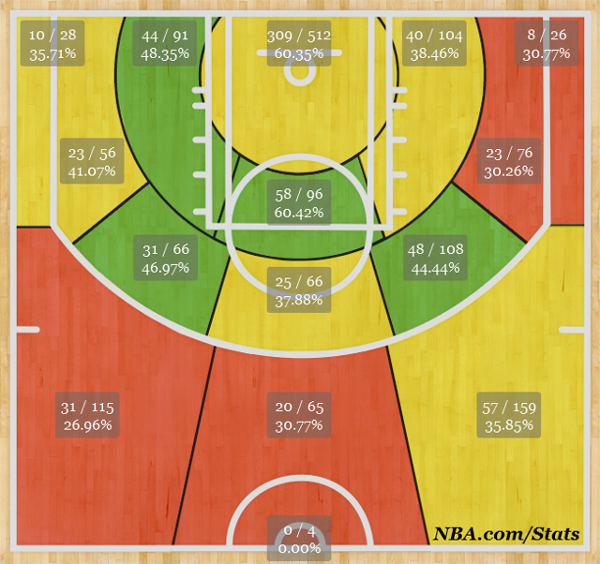 Bryant's shot-chart this season. Imaged sourced from NBA.com.
In what was arguably a prime example of his competitive nature propelling him beyond all those on the court, the 'Mamba' looks like he will deliver on his early-season promise of play-off basketball at the Staples Center later this month.
With Dwight Howard and Pau Gasol linking up to good effect, finishing with 20 and 23 points respectively, the win over the Trail Blazers couldn't have come at a better time.
The Lakers end the regular season with three games on home court, the first of which sees them take on the Golden State Warriors on Friday night.
The San Antonio Spurs then arrive in town on Sunday, before the season finale against the Houston Rockets next Wednesday.
Things can change quickly in the NBA, as after the loss to the Los Angeles Clippers on Sunday, many were questioning whether or not the Rockets game would be Bryant's last this season.
However, consecutive wins since have put them in a strong position, especially with the Jazz unlikely to drop valuable wins with back-to-back meetings with the Minnesota Timberwolves.
With all eight play-off places decided in the Eastern Conference and the top seven decided in the West, all eyes are now on the race between the Lakers and Jazz. It remains to be seen who will prevail, but one thing that is certain is that Bryant is in the mood to extend his season.