---
Oklahoma City Thunder star catches fire in a sensational offensive performance.
Oklahoma City Thunder leader Kevin Durant exploded on the offensive end against the Golden State Warriors, pouring in a career-high 54 points to lead his side to an important 127-121 win.
Durant helped the home side to a 17-point lead thanks to an burst of 11 points in just two minutes as the home crowd chanted "MVP, MVP", with star small forward now having the three top scoring games in the entire NBA this season.
Steph Curry had 37 for the Warriors but it was not enough to negate Durant, who made 19 of 28 field goals and 11 of 13 free throws in his third straight game with at least 36 points.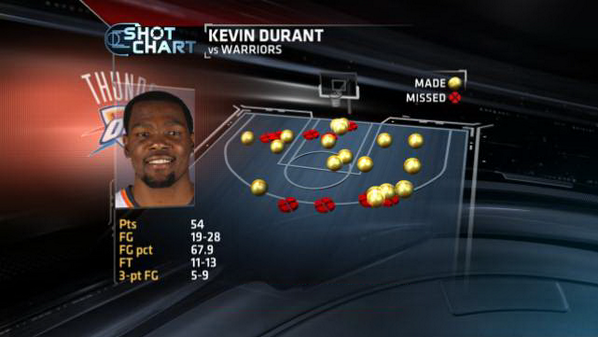 During the last 11 games without star guard Russell Westbrook, Durant has averaged 34.6 points a game on 61.9 true shooting, 7.8 rebounds and 5.5 assists.
However, despite his insane numbers, the humble superstar paid tribute to his teammates for his career-high night as the Thunder continued to set the pace in the Western Conference.
"As a leader, my main objective is to serve my teammates, help them out," he said.
"Some nights, I've got to put it up, I've got to score. Some nights, I've got to do other things. Tonight, they found me and I was able to hit a few shots. I just tried to do as best as I can to lead the team and lead us to victory."
Asked if he feels he should be in the conversation for the regular season Most Valuable Player award, Durant again deflected the praise.
It's premature," Durant said. "It's way too early in the season. I try not to think about that type of stuff. Of course, as a player, you'd love to win an MVP award, but I can't take my focus off the team. Every day, I've just got to keep chipping away, keep enjoying the process, and we'll see what happens."
Serge Ibaka had 21 points and eight rebounds, Reggie Jackson scored 14 points and Kendrick Perkins added 12 rebounds for the Thunder (30-10), who won for the third time in four games. Oklahoma City shot 58 percent from the field and scored a season-high point total.
Curry had his 37 points and 11 assists, and Klay Thompson added 26 points for the Warriors (25-16), who shot 52 percent but simply couldn't match up with Durant.