---
LaRon Landry's arms are bigger than his head, and some of the hits he delivers are overpowering even against men of his own size.
SEE MORE:
Indianapolis Colts cut S LaRon Landry and two of his team-mates
BUSTED! Recently released LaRon Landry suspended 10 games for drug violation
(Image) New photo of NFL safety LaRon Landry's enormous bicep emerges
After the 2014 NFL season ended, former Washington, New York Jets and Indianapolis Colts S LaRon Landry was suspended for PED use.  And a recently released photo of Landry (left) indicates with very little room for doubt that Landry consumed steroids like Skittles: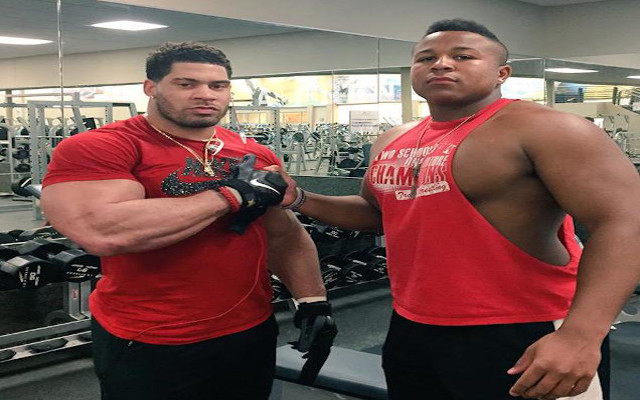 Off the field, Landry looks like a Hulkish freak that would be best suited for a role in the upcoming Avengers movie, but on the field, Landry has also been a terror for years.
Here is a look at five of LaRon Landry's biggest and hardest hitting NFL hits:
5. 2011 vs. Nate Burleson
LaRon Landry sees the screen pass coming from Detroit Lions' QB Matthew Stafford towards WR Nate Burleson and doesn't stop running towards him at full speed until after he runs into (AND THROUGH!) the Lions receiver.
4. September 25, 2011 vs. Laurent Robinson
In this rivalry game between Washington and the Dallas Cowboys, Landry makes a beeline for Tony Romo's intended target Laurent Robinson, blasting him in the chest and knocking the ball out of his hands, preventing the catch and knocking Robinson all the way to the Cowboys' bench
3. 2011 vs. Matt Ryan
In a blatantly dirty play, Landry plows right into Falcons QB Matt Ryan as he was running out of bounds, drawing the flag and causing a massive brawl between Washington and Atlanta.
2. 2012 vs. Victor Cruz in the preseason
In his one year with the Jets, Landry emerged as a Pro Bowl force for the team and made his presence known with a massive hit on Giants star receiver Victor Cruz.
1. Landry vs. Brandon Jacobs
One of the biggest hits in NFL history – LaRon Landry was not on the hitting end, but on the receiving end of a massive hit by Giants RB Brandon Jacobs. On that play, the massive Giants RB lowered his shoulders and simply trucked Landry in one of the most amazing hits by an offensive player in NFL history.