---
Twitter's best reactions to Ian Botham's penis.
For those that are unaware, Sir Ian Botham 'posted' a picture of his penis to Twitter before claiming that he had been hacked.
It's plausible, but the good folks of Twitter seemed to prefer to think it wasn't and as with every incident like this it has brought out the inner comedian in everybody.
Scroll down below for the best Twitter reactions to Ian Botham's penis picture.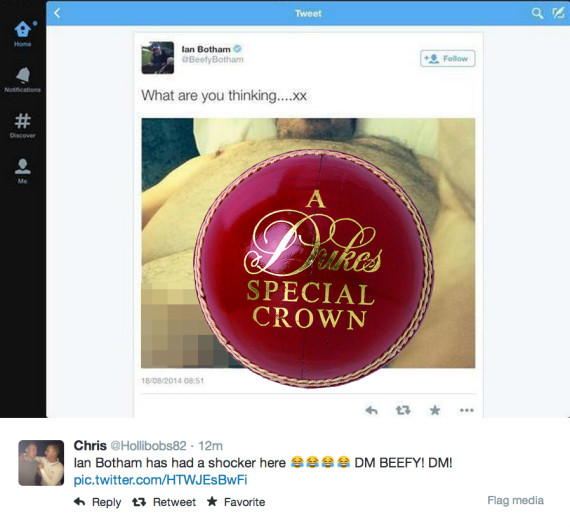 Why is everyone talking about Ian Botham? *searches* Oh. Oh no.

— glen wilson (@glenglenglen) August 18, 2014
This new tailored block function on Twitter is scarily accurate. @BeefyBotham pic.twitter.com/3SAbUnTfoa

— i.am.tulip™ (@AsTallAsHerEyes) August 18, 2014
That Ian Botham photo again pic.twitter.com/Czj7jRmAMp

— Matthew Eyre (@MatthewEyre) August 18, 2014
Hardly the most embarrassing dick Ian Botham has appeared in a picture with: pic.twitter.com/cByDdvFtWw

— Ian Hyland (@HylandIan) August 18, 2014
In case you were wondering why Ian Botham is trending, just live in ignorant bliss. Some things just can't be unseen. I'm scarred for life!

— Travis Bickle (@celebritycabs) August 18, 2014
Could have gone without seeing Ian Botham's middle stump immediately before going to sleep.