---
Spurs planning to clear the decks at White Hart Lane, ahead of a big summer of business.
As yet another season ended in Champions League heartbreak, the thoughts of all Spurs fans turned to the summer ahead.
There are few clubs in the Premier League for which a transfer window is so exciting as Tottenham Hotspur.
With chairman Daniel Levy at the helm, Spurs have been famed for their last minute deals, including spectacular bargains (think Rafa van der Vaart and Clint Dempsey) and glorious failures (Leandro Damiao and Joao Moutinho).
After missing out on UEFA's premier club competition for the third consecutive season, this summer will be pivotal for Spurs if the club wants to push on and build a title-challenging team around quadruple player of the year Gareth Bale.
The Daily Mirror has revealed 8 players the north London outfit are ready to offload this summer, as Andre Villas-Boas aims to clear the decks before signing new recruits.
Emmanuel Adebayor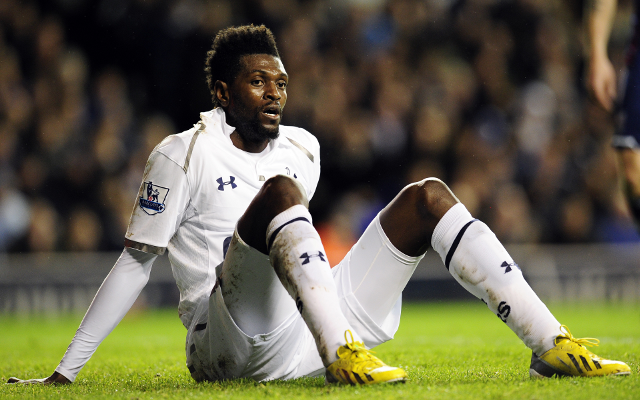 There are few more frustrating players in the Premier League than the gangly Ivorian. When he can be bothered, Adebayor looks a work-beater, capable of sublime goals and equally sublime assists (see Spurs recent 2-2 draw at Stamford Bridge for examples). But the 29-year-old has spent the majority of the season looking entirely disinterested and a return of eight goals in 33 appearances is simply not good enough for a team with Champions League ambitions.
Nobly, the former Arsenal striker sends much of his hefty pay-packet but his native Togo so he is only likely to agree to a move if he is offered similar wages; MLS, the Middle East or his former club Monaco are all possible destinations.