---
The Cronulla stars' career could be over after another off-field incident threatens his legacy.
It appears as though Todd Carney may have tempted fate once too often and his, at times, glittering NRL career could be over.
In the wake of the urination photo scandal which has caused a firestorm of controversy in the last 24 hours, Carney finds himself out of the game and out of the spotlight after being sacked by the Cronulla Sharks.
Funnily enough, that could be the best possible thing for him and his life.
Click here to see the offending photo
While it is yet to be "officially" authenticated by the player as he has gone to ground, it should not come as a surprise that it is the Sharks playmaker in the photo.
Carney has a long record off the field, with the following just occurring during his time with the Canberra Raiders before his contract was torn up in 2008.
December 2006: Charged with mid-range drink driving and reckless driving following an incident in Goulburn.
January 2007: Faces court over Goulburn incident.
February 2007: Licence suspended for five years.
May 2007: Carney and fellow Raiders player Steve Irwin lead police on a car chase through Canberra's streets before Carney abandons the car and flees.
May 2007: Carney hands himself into police the morning after the chase.
May 2007: Raiders put Carney on a rehabilitation plan.
June 2007: Handed 200 hours community service for pursuit and driving while his licence was suspended.
March 2008: Signs four-year deal worth an estimated $400,000 a season to remain with the Raiders.
May 2008: Stars in his representative debut for Country Origin.
July 2008: Allegedly urinates on a patron at a Canberra pub, though complaint is eventually withdrawn. Stood down indefinitely by Raiders.
Aug 2008: Handed a non-negotiable five-point rehabilitation plan which includes clause stating he cannot play again this season and must go on an alcohol ban until the end of 2012.
Aug 2008: Carney writes an open letter claiming he should be allowed to play this season.
Aug 2008: Whilst suspended by the club, allegedly evicted from Goulburn club following involvement in a verbal altercation.
Aug 2008: Has contract terminated by the Raiders with the NRL vowing not to register a contract with another NRL club for 2009.
It appears reluctant silence was a sign of a guilty conscious and it was confirmed on Sunday when the Sharks board decided they had seen enough, and tore up his contract worth $650,000-a-year.
Carney should not be run out of the NRL with torches and pitchforks like some kind of monster, although fanatix cannot believe his career has taken another disgusting turn off the pitch.
No, Carney needs some kind of help.
We heard plenty of Carney's time away from the NRL, playing with the Atherton Roosters, given a lifeline by a bush club in far North Queensland when no one else in the country would.
And it made for a romantic rugby league story when he did come back to the big time and played an outstanding season with the Sydney Roosters in 2010 with the Dally M medal capping a stunning return season.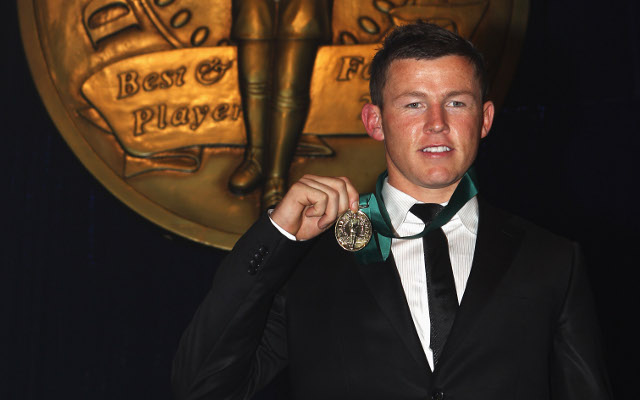 People might argue that incidents, maybe not quite as revolting as this, but similar in nature occur every weekend amongst young males and that Carney is more of a target because of his profession.
And while that might be true for certain unsavory clashes where players in the past have been goaded into fights at pubs so they can be caught on camera, it does not extend to matters such as this.
Carney needs help.
Help with dealing with his life off the field and again, it appears, help with alcohol as no sober person, in a public place mind you, would attempt what the 28-year-old is doing in the photo.
Much of the public reaction has rightly been disgust, but there has been an element of "gee he must have been thirsty" when it comes to comments on social media, which is almost as disturbing and it raises the point what would he have needed to do to elicit complete condemnation?
Rugby league Immortal Andrew Johns said that he was "only doing it to himself" and that he could not believe the words 'sacked' and 'Carney' was being used in the same sentence again.
Johns of course has his own chequered past when it comes to off-field incidents which could fill a book, but surely he cannot believe that Carney is "only doing it to himself" as the NRL is plastered across the world again for all of the wrong reasons.
A similar photo scandal ended the career of former Canberra centre Joel Monaghan after he was pictured during an end of season party "receiving" oral sex from a dog.
And while Johns might be arguing that because an animal was involved, against its will, that the incident is worse than Carney's, it really is semantics in terms of issues of NRL player morality.
However, in the wake of the decision by the Sharks to sack Carney, they must ensure he gets the help he needs as it appears his rugby league career could be over unless he is willing to switch codes to rugby or playing in England.
Because no NRL club will want to sign him now for risk of taking on a five-eighth that doubles as a negative press time-bomb unless something changes.