---
This week's transfer gossip eaten up, chewed vigorously and appetisingly regurgitated by the clever folks at MatchPint.
Thiago To Make A Lot Of Mancs Cry…?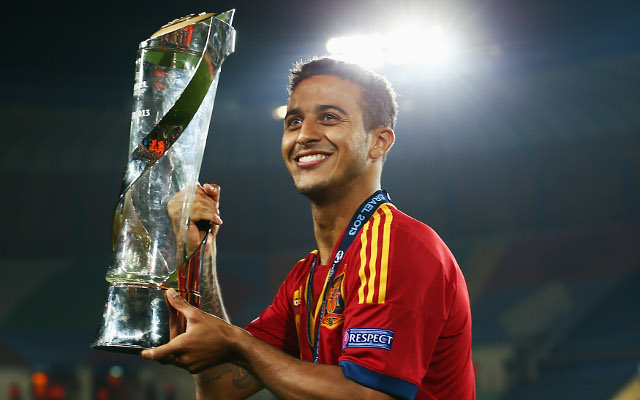 After the vast majority of Manchester United fans had worked themselves into a serious lather over the prospect of Barcelona's latest wonderkid coming to solve 10 years of midfield problems, a rather sizeable snag has emerged. This one has been rumbling on for bloody months, and guess what chaps? The one man who could gazump United looks to have stepped in.
Pep Guardiola has voiced his interest in the player he blooded successfully into Barcelona's team a few years back. He's now in the enviable position of managing German heavyweights, Bayern Munich, and seems pretty keen on the much lusted after midfielder,
"I want Thiago Alcantara. I have asked Bayern to get him but I don't know what will happen. Thiago is the only player I want, that's what I told them," Pep is quoted as saying by Sky Sports.
"It'll be him or no one. We have many players but we the need the special extra quality that Thiago Alcantara brings."
It looks very much like Davey Moyes has got his work seriously cut out to rescue this one. United fans, fear not though, look forward to a cut price move for marquee signing Leon Osman in the coming days…
City To 'Break The Bank' For Ronaldo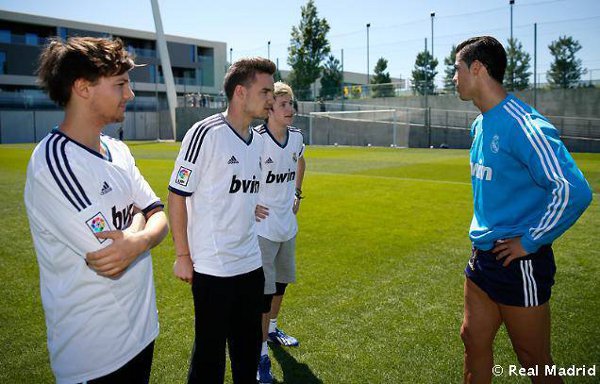 Firstly, I'm pretty sure banks, if left to their own devices for long enough, are more than capable of breaking themselves these days and don't need Manchester City's help at all. But in all seriousness though, good one guys. The Daily Star cracked everyone up with Thursday's bombshell by suggesting that Cristiano Ronaldo (seen above in some short shorts with One Direction) might seriously leave Real Madrid for Manchester City. There's no fee quoted or word from anyone at City save for some conjecture that the Citizens would beat any wage offered by Manchester United, which goes without saying these days.
Aside from the fact that Ronaldo confirmed he won't be going anywhere this summer last month there's THE WHOLE MANCHESTER UNITED THING to consider. Here's Ronny's quotes on the matter from February this year,
"To play for City not United? I'm not going to do that. Why? Because my heart's in Manchester United, that's why," the Portuguese superstar told The Sun (in an alleged exclusive).
"I can say it would be very, very, very, very, very, very, very, very, very, very, very, very difficult to play at Manchester City. Very difficult because of Manchester United."
How stupid do the Star think the general population is?
Other Actually Plausible City Rumours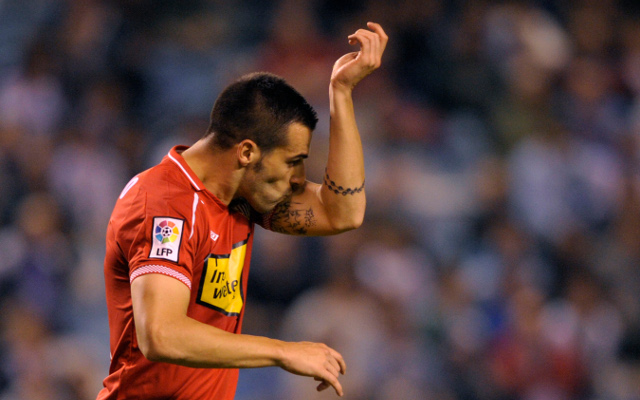 Last week we noted that Alvaro Negredo to Manchester City had the makings of a weighty transfer yarn as all the key ingredients lined up nicely. This potential move has hit a hurdle, however, as the key protagonist, Negredo, seems to have had a slight change of heart re. leaving.
"Right now I'm at Sevilla and I like it very much. If I stay then that will be fine, but if I leave then it will be because it benefits both the club and myself," the Spaniard is quoted as saying by ESPN.
"I'm happy on a personal level but collectively we have not achieved the goals we wanted.
"Now perhaps I am at a decisive moment for my future."
The words of a man still gagging for a move or a player simply making sure that he hasn't burned too many bridges in the off chance that it doesn't go through?
Meanwhile, the paper talk regarding City on Friday swung back to the old line that Stefan Jovetic of Fiorentina is the man to complete City's attacking line-up next season. The Montenegrin forward has been lavishly priced at £30 million fat ones, something which Chelsea and Juventus have baulked at. According to the Daily Mail the striker's representatives have held talks with City and personal terms 'are not expected to be a problem'.
Seems a bloody foregone conclusion then, eh? We'll see, we'll see…