---
Brady's Rise to the Top of the NFL
As far as most analysts and football fans are concerned, Tom Brady has proven himself to be the best quarterback in NFL history. His career has been astounding to watch, and it's remarkable to look back and remember that this was not a first-round draft pick that everyone knew would be great, Brady was a sixth-round selection that no one had faith in. His breakout year was in 2002 when he won his first Super Bowl despite it being just his second year in the league. Since then, Brady has been the starter every year for the Patriots, with countless successful seasons in the books. 
Accomplishments and Accolades
Without doubt, there is no quarterback that has received more awards or accomplished more in their career than Brady. He has competed in 7 Super Bowls, received 5 Super Bowl MVP awards, 3 NFL MVP awards, 14 Pro Bowl nominations, and broken numerous records including most career touchdown passes at 664. Perhaps most importantly, Brady's Super Bowl record has been sensational. 
In just the past 5 years alone, we had 4 Super Bowls featuring Tom Brady on 2 different teams, with Brady winning 3 of them. Brady and his team have been the consistent favorite in most of these matchups, leading to bettors showing less interest in standard moneyline wagers and instead opting for interesting prop bets because these are a great way to remain engaged in the action even if the game is completely one-sided. Some of these past bets included future MVP of SB53, to the color of the Gatorade shower. While his record has already been very impressive, we still may see more Brady Super Bowls in the near future. 
Brady vs The Patriots Management
Most football fans had imagined that Brady would retire with the only team he had ever played for, the New England Patriots. However, it seems that fate would eventually lead him away. There has always been the argument over whether the success of the Patriots through 2000-2019 was due to Brady's elite skills, or coach Bill Belichick's team building and play making. This doubt certainly weighed on Brady's mind and affected his pride to a degree over the years. 
In addition to this, rumors had been circulating for some time that Brady and Belichick were not particularly close. Then there were the contract disputes. Brady has publicly stated that he wanted to remain in New England and wanted to lock in a long contract. However, the New England management wanted to keep the aging quarterback on a short term contract, effectively demonstrating that they did not have faith in his longevity. Once the dust had settled, Brady was a free agent and teams around the NFL were calling.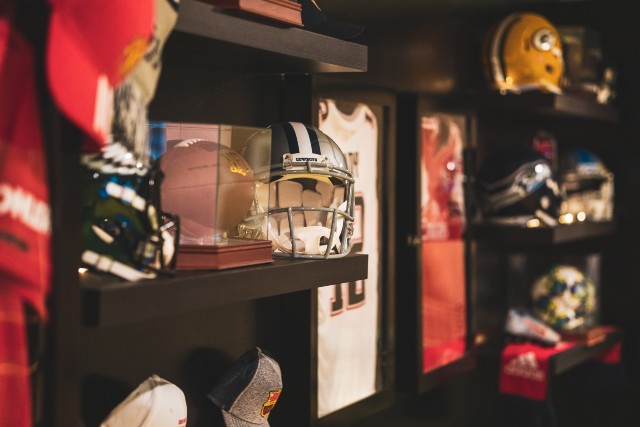 Brady Revitalizes Tampa Bay
Among all the teams that were certainly knocking on Brady's door, he eventually decided on the Tampa Bay Buccaneers. While this was a surprising move, Brady saw something there he liked, calling the situation in Tampa Bay "intriguing." The Buccaneers had been lackluster for years and they only have one Super Bowl championship from 2002. What exactly attracted Brady to this team?
To most football analysts, the biggest factor was obvious. After two decades of high-level play and numerous accomplishments, Brady still felt he had something to prove. By heading to Tampa Bay and turning this team around, Brady would essentially prove that he was the driving factor behind the Patriots' success all those years. 
Way back in 2015, Brady was interviewed and asked if he had any retirement plans to which he responded, "no, I've got a lot of football left." In hindsight, he certainly wasn't exaggerating. 
Not only did Brady bring the Buccaneers their first winning season in the past decade, he brought them their first Super Bowl victory in nearly 20 years. Against all odds and criticism, Brady has succeeded in Tampa Bay and brought new life to this team. 
How Much Longer Can We Expect Him to Play?
Despite being 43 years old, Brady has said that he has no plans to retire yet. After proving himself with a Super Bowl victory in Tampa Bay, the team has extended his contract for two more years at $25 million dollars a year. After this, the stage is set for another contract or even another move to free agency. If you listen to Brady talk, it still sounds like he's not ready to retire anytime soon.