---
Can the NFL's best offence continue like a well-oiled machine in the biggest game of the year?
The Seattle Seahawks face the Denver Broncos in Super Bowl XLVIII on Sunday night, and fanatix takes a closer look at the key players looking to influence matters and make it a successful trip to the MetLife Stadium.
This year's edition of the Super Bowl has been billed as the ultimate clash between offense and defense, as the Broncos arrive after an NFL-record 55 passing touchdowns with four receivers in double-digit scores, to face the Seahawks and their intimidating "Legion of Boom" secondary.
And while many performance indicators tip a close game, the Broncos have the players, in the form of Peyton Manning and the targets he needs on the ground and in the air to put up points in a hurry, and finish off what has been an incredible season to date.
#87 Eric Decker – wide receiver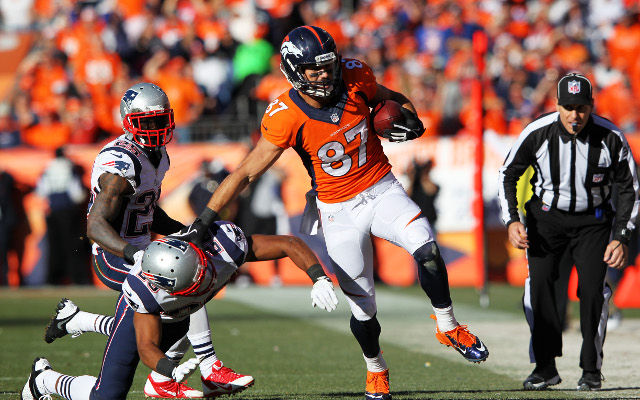 2013-14 regular season stats
Games: 16
Receptions: 87
Yards: 1288
Average: 14.8
Long: 61 yards
Touchdowns: 11
Decker ranked eighth in the NFL this season with 11 touchdowns and 2013-14, no matter how it shapes up this Sunday night, is already a breakout one for the wide-receiver.
Decker was quite active in the AFC Championship game, although Demaryius Thomas and Julius Thomas finished with more targets, catches, and yards.
Possessing a safe pair of hands handing the Broncos three touchdowns in the final two games, Decker has yet to find the end zone in the playoffs.
However, he's proven that he can score in bunches in a moment's notice, so he certainly won't be ignored in the Super Bowl.