---
Speculation continues to mount that 'King James' follows in Michael Jordan's footsteps.
It was a move that earned $230 million worldwide and confirmed Michael Jordan was a basketball star that transcended the sport.
You know you've made it big when your co-stars are Bugs Bunny and Porky Pig and Tweety Bird.
But information is coming out now that Miami Heat superstar LeBron James might be the star of the Space Jam sequel, despite, James' camp trying to pour cold water on the rumour.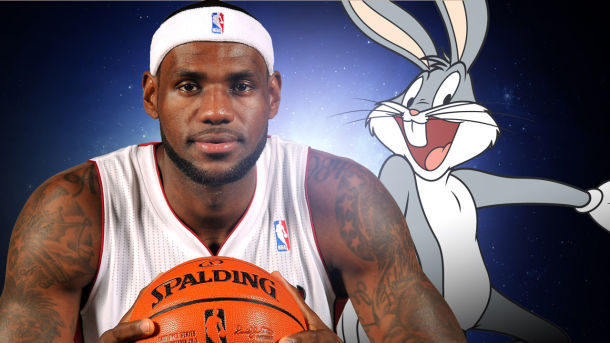 Source close to LeBron says there has been no substantive discussions regarding his starring in a Space Jam sequel.

— darren rovell (@darrenrovell) February 22, 2014
However, it's worth noting that no one from Warner Bros. is denying anything and Deadline, who reports brothers Charlie and Willie Ebersol are mooted to write and direct the project.
On top of that, Rovell's use of the term "substantive discussions" can be read a couple of different ways – including that there have been some early talks, just no deals made.
Deadline naming specific producers and writers on the project certainly indicates Warner Bros. is indeed developing Space Jam 2 and LeBron James is probably the intended star.
But who knows, perhaps a different basketball star could ultimately take that slot?