---
Things are verging on the ridiculous in the Spanish capital.
It's been argued for some time that Real Madrid's tactics to lure new players are somewhat suspect and Tottenham Hotspur are not happy with the pursuit of Gareth Bale.
The Welshman has become priority No.1 for Los Blancos and the Spanish giants are prepared to pay a colossal £94m world record fee for the 24-year-old.
Bale is currently not playing for Tottenham due to a suspect "injury" and Madrid have been using their full arsenal to try and convince the forward to move, with comments from Zinedine Zidane, Sergio Ramos and Iker Casillas.
Spanish daily Marca is known for having a strong relationship with Los Merengues and Sport Witness have revealed a ridiculous nine-page spread that the newspaper has published devoted to the Spurs star.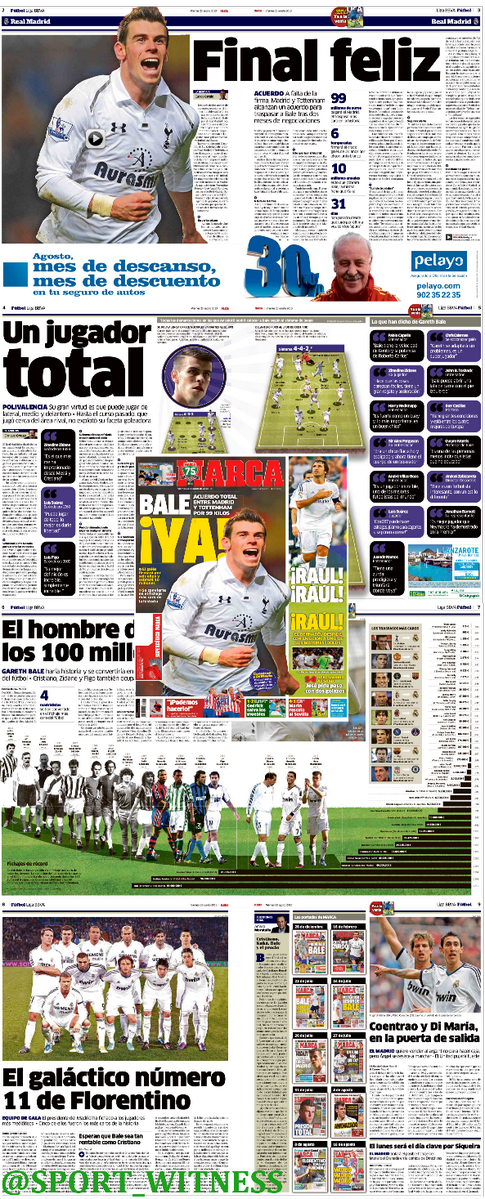 Yet it doesn't stop there for Madrid as in a quite improbable turn, one of the biggest clubs in world football published Bale's name on their official site, along with the 24-year-old's favoured No.11, as an option for being printed on the back of a new £53.33 shirt.
Spokesmen from the Santiago Bernabeu insist this was simply an accident and it has since been taken down, but luckily some crafty soul took a screenshot before it was removed.

It may be hard to spot, but look just above the shirt for the words '11 BALE.'
Spurs are understandably angry by this continued disregard for the protocol of transfer dealings, but with the amount of money that is being touted for the player the north London club can hardly refuse.
Read the latest Tottenham news in Bahasa Indonesian with fanatix!
Melanggar Tottenham rumor transfer dan berita dalam Bahasa Indonesia dengan fanatix ID!