---
Durant reveals frustration of coming second throughout his career.
One of the most likeable superstars of the NBA off the court, as well as being one of the most talented young men on it. Despite all the praise and recognition, Kevin Durant is not content with life just yet.
The Oklahoma City Thunder star has revealed all in an interview with Sports Illustrated, venting his frustration at the fact that he is "tired of being second".
However, despite being consistently outshone by rival, and close friend, LeBron James, rather than bemoan the fact that he is still widely regarded as the second best player in the league, Durant is purely focused on becoming better.
"I've been second my whole life," he told SI's Lee Jenkins.
"I was the second-best player in high school. I was the second pick in the draft. I've been second in the MVP voting three times. I came in second in the Finals. I'm tired of being second. I'm not going to settle for that. I'm done with it," he added.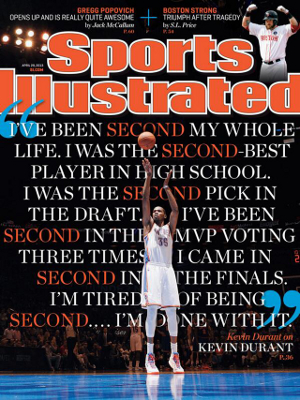 Image courtesy of Sports Illustrated.
The Thunder had the best regular-season record in the Western Conference, and will be bidding for an immediate return to the Finals this year. Yet despite the accolades and scoring titles, Durant remains behind LeBron in both individual and collective achievements.
Despite the media cries for a more fierce rivalry between the two rather than the great friendship they share, Durant is not about to change that in his bid to make it to the top. Far from it in fact, as he revealed he takes a keen interest in how the Miami Heat star performs.
"That's my guy. I looked up to him, and now I battle him. People see two young black basketball players at the top of their game and think we should clash. They want the conflict. They want the hate. They forget [Larry] Bird cried for Magic [Johnson]. A friend was getting on me about this recently, and I said, 'Calm down. I'm not taking it easy on him. Don't you know I'm trying to destroy the guy every time I go on the court?'"
Durant has hired his own analytics expert in a bid to further improve his game, to recognise where his strengths and weaknesses lie and to continue to build on his skills on the court.
Equally adept at draining threes from beyond the arc as he is of exploding to the basket and finishing with aplomb, his all-round game sets him apart from many of his rivals.
At just 24, he has a long and arguably successful career ahead of him, but he is committed to producing immediately, and becoming the best the NBA can offer.
It is entirely realistic to suggest that there may well be another Heat-Thunder Finals to look forward to as the post season reaches it's climax. As he continues to take steps to improve himself, Durant is not interested in coming second best again.