---
Man City target Isco has not always been a fan of Real Madrid…
Real Madrid new-boy Isco claimed Los Blancos were 'an arrogant club' and declared himself an 'anti-Madridista'.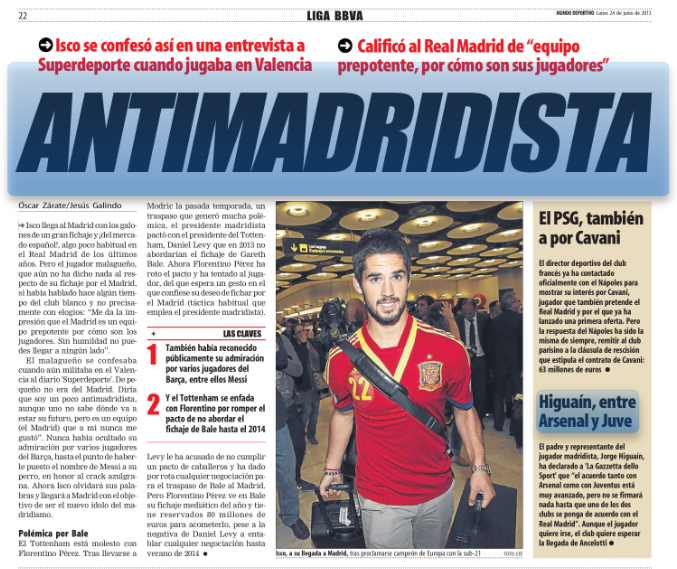 The 21-year-old Spain international is expected to be unveiled as a Real player as soon as Carlo Ancelotti is confirmed as the club's new head-coach, after Malaga agreed a reported €24m deal with the La Liga runners-up.
But Catalan newspaper Mundo Deportivo has unearthed some interesting quotes from the playmaker from 2009, when Isco was part of the Spain under-19 squad.
Asked whether he would ever join Real in the future, Isco reportedly said: "I'd say I'm a bit antimadridista although I do not know where my future will be, but it's a team that I never liked. I get the impression that it is an arrogant club, about how the players are.
"Without humility you cannot get anywhere."
While a 'Madridista' is a fan of the Spanish giants, an 'antimadridista' is quite the opposite, suggesting Isco had an entrenched dislike for the Santiago Bernabeu club just three years ago.
The paper goes on to claim that Isco is a big fan of Real's fierce rivals Barcelona and says the youngster has even named his dog Messi, after Argentine forward Lionel.
It is worth pointing out that while Marca, who are convinced the deal to take Isco to the Spanish capital is done, are staunch supporters of Real, Mundo Deportivo are heavily pro-Barca.
And we think the English media is biased…
Photo via the always excellent Sport Witness.