---
Regular season draws to a close as the business end of the year approaches.
With the 16 franchises decided, the NBA play-offs are upon us as the picture is completed and the schedule is announced.
The Los Angeles Lakers left it late to confirm their attendance at the post season party, but did so having won their final two games of the season without Kobe Bryant.
Having defeated the Houston Rockets at the Staples Center on Wednesday night, they successfully snatched the seventh seed from their rivals to set up a mouth-watering clash with the San Antonio Spurs.
Elsewhere, the Miami Heat and the Oklahoma City Thunder stayed on course to meet again in a repeat of last year's NBA finals, having both topped their respective conferences.
LeBron James and friends will be expected to brush aside the Milwaukee Bucks, with either the Brooklyn Nets or Chicago Bulls waiting in the next round. There is of course the possibility of a Heat and New York Knicks Eastern Conference Finals, which would be difficult to call considering the form of the newly crowned scoring leader Carmelo Anthony.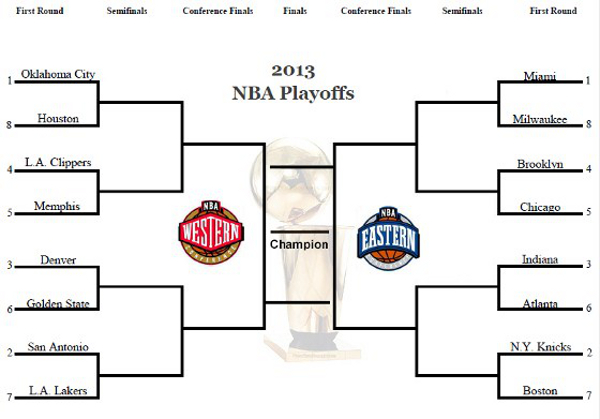 There is plenty to look forward to in the upcoming month, and it all begins on Saturday when the Knicks take on the Boston Celtics.
Mark the dates in the calendar and make your predictions as the much anticipated NBA play-offs are here!
WESTERN CONFERENCE – FIRST ROUND 
(1) Oklahoma City vs. (8) Houston
Game 1 – Sun April 21, Houston at Oklahoma City
Game 2 – Wed April 24, Houston at Oklahoma City
Game 3 – Sat April 27, Oklahoma City at Houston
Game 4 – Mon April 29, Oklahoma City at Houston
Game 5 * Wed May 1, Houston at Oklahoma City
Game 6 * Fri May 3, Oklahoma City at Houston
Game 7 * Sun May 5, Houston at Oklahoma City 
(2) San Antonio vs. (7) L.A. Lakers
Game 1 – Sun April 21, L.A. Lakers at San Antonio
Game 2 – Wed April 24, L.A. Lakers at San Antonio
Game 3 – Fri April 26, San Antonio at L.A. Lakers
Game 4 – Sun April 28, San Antonio at L.A. Lakers
Game 5 * Tue April 30, L.A. Lakers at San Antonio
Game 6 * Thu May 2, San Antonio at L.A. Lakers
Game 7 * Sat May 4, L.A. Lakers at San Antonio 
(3) Denver vs. (6) Golden State
Game 1 – Sat April 20, Golden State at Denver
Game 2 – Tue April 23, Golden State at Denver
Game 3 – Fri April 26, Denver at Golden State
Game 4 – Sun April 28, Denver at Golden State
Game 5 * Tue April 30, Golden State at Denver
Game 6 * Thu May 2, Denver at Golden State
Game 7 * Sat May 4, Golden State at Denver 
(4) L.A. Clippers vs. (5) Memphis
Game 1 – Sat April 20, Memphis at L.A. Clippers
Game 2 – Mon April 22, Memphis at L.A. Clippers
Game 3 – Thu April 25, L.A. Clippers at Memphis
Game 4 – Sat April 27, L.A. Clippers at Memphis
Game 5 * Tue April 30, Memphis at L.A. Clippers
Game 6 * Fri May 3, L.A. Clippers at Memphis
Game 7 * Sun May 5, Memphis at L.A. Clippers 
EASTERN CONFERENCE – FIRST ROUND 
(1) Miami vs. (8) Milwaukee
Game 1 – Sun April 21, Milwaukee at Miami
Game 2 – Tue April 23, Milwaukee at Miami
Game 3 – Thu April 25, Miami at Milwaukee
Game 4 – Sun April 28, Miami at Milwaukee
Game 5 * Tue April 30, Milwaukee at Miami
Game 6 * Thu May 2, Miami at Milwaukee
Game 7 * Sat May 4, Milwaukee at Miami 
(2) New York vs. (7) Boston
Game 1 – Sat April 20, Boston at New York
Game 2 – Tue April 23, Boston at New York
Game 3 – Fri April 26, New York at Boston
Game 4 – Sun April 28, New York at Boston
Game 5 * Wed May 1, Boston at New York
Game 6 * Fri May 3, New York at Boston
Game 7 * Sun May 5, Boston at New York
(3) Indiana vs. (6) Atlanta
Game 1 – Sun April 21, Atlanta at Indiana
Game 2 – Wed April 24, Atlanta at Indiana
Game 3 – Sat April 27, Indiana at Atlanta
Game 4 – Mon April 29, Indiana at Atlanta
Game 5 * Wed May 1, Atlanta at Indiana
Game 6 * Fri May 3, Indiana at Atlanta
Game 7 * Sun May 5, Atlanta at Indiana
(4) Brooklyn vs. (5) Chicago
Game 1 – Sat April 20, Chicago at Brooklyn
Game 2 – Mon April 22, Chicago at Brooklyn
Game 3 – Thu April 25, Brooklyn at Chicago
Game 4 – Sat April 27, Brooklyn at Chicago
Game 5 * Mon April 29, Chicago at Brooklyn
Game 6 * Thu May 2, Brooklyn at Chicago
Game 7 * Sat May 4, Chicago at Brooklyn
*if necessary