---
We take a look at whether the 'Big Three' might be splitting up this off-season.
Just a few short days ago the off-season for the Miami Heat and its fans looked to be going according to plan.
All three of their stars, LeBron James, Dwyane Wade and Chris Bosh opted out of their contracts and looked to be working together to try and trim some fat off their contracts so the Heat could upgrade their roster to compete with the likes of the San Antonio Spurs next season.
But now with word coming through that James is seemingly not in contact with Wade and Bosh, are the first cracks in the facade starting to show, and should the Heat bow to the pressure being placed on them by the best player in the world and give him a max deal?
fanatix NBA writers Sumeet Paul and Scott Hazlewood take a look at the major talking point this NBA off-season.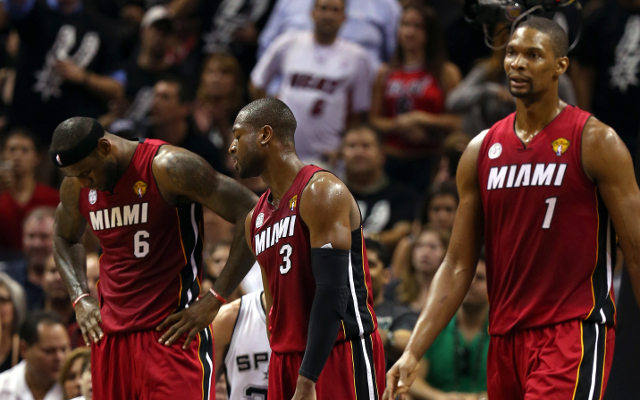 Sumeet Paul: No. While that may seem like a nonsensical evaluation given that this is LeBron James, the Miami Heat can't afford to give him a maximum-level contract if it will restrict Pat Riley in building a strong roster.
James is undoubtedly the best player in the NBA and is a real leader, but let's not forget that it takes a team to win a championship, and if the Heat can't add quality role players then I don't think they can snatch back their crown next year.
Without the likes of Mike Miller, Shane Battier and Ray Allen, those two championships may never have happened, so ultimately the team comes first.
Scott Hazlewood: I agree they need to offer him less than a max deal in order to stay competitive.
Unless the Heat gut the team, they will be competitive in the Eastern Conference again next season as really only the Bulls (with or without Carmelo Anthony) and Indiana (if Paul George and co. learned a bit of humility and the meaning of hard work) loom as the major threats.
But they need to make the most of the juicy free agency period to upgrade in several areas of role-players and the only way they can do that is have about $10 million in cap space to get one very good back-up player or two mid-range players.
And that can only happen if each of the Big Three trims about $2 million a year from their reported contracts over the next three to five years.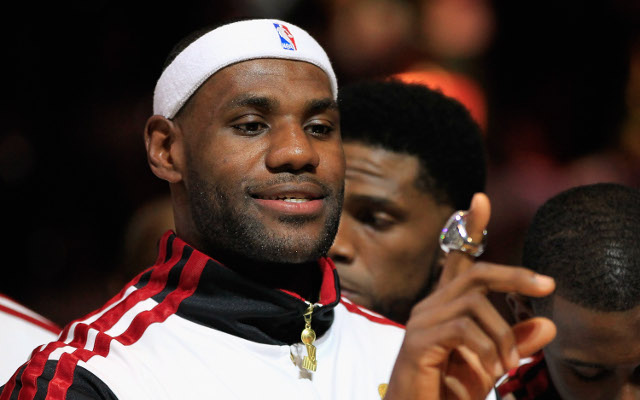 SP: From James' perspective, is it completely inappropriate of him to demand such a deal or is this even perhaps his way of getting out of Miami?
SH: Very good question. I don't feel like James is holding the Heat to ransom over his insistence of a max deal. Personally I think this is driven largely but wanting to get his.
I feel James is the most underpaid athlete in the world of pro sports, not just in the NBA, given how good he is and what he means to a franchise.
So no I don't think it's inappropriate to ask for what he is worth, but it will be interesting to see if he sticks completely to his guns and be willing to walk away from a franchise and a GM in Pat Riley who will do everything legally to make James happy and give him what he wants.
I still think Miami is his best chance to win more titles, because that is all that is driving him now, chasing titles to bump himself up in the rankings of overall legends.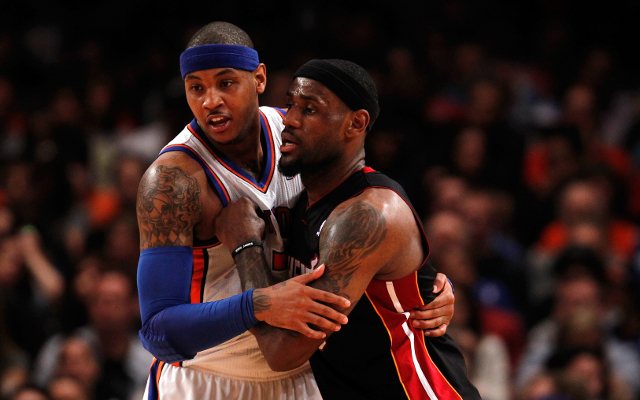 SP: Agreed, but I think that if he isn't willing to negotiate and take less than a max salary then he is indirectly telling the Heat that I'll go get mine somewhere else then if you're not willing to pay me that much.
Essentially I think he stays in Miami and they figure it out, but with the Cleveland Cavaliers making noises and teams like the Phoenix Suns and Los Angeles Lakers capable of pairing superstars together, this could get a lot more interesting before final decisions are made.
SH: If James does leave Miami, it think it will only be for a Eastern conference team because while LeBron could help almost any team be competitive, a trip back to the Finals is easiest in the East.
I can't see the Cavs signing him as much as they have made a song and dance about bringing him "home" and Kyrie Irving's max deal might muddy the water there.
At first I scoffed at the suggestion of the Suns making any waves this off-season, but reading more into it, they have the young, talented roster, first round draft picks this year and next and the cap space to maybe sign James and Carmelo Anthony to max or close to max deals.
If Phoenix somehow pulled that off I think it would be more impressive than the Heat assembling the Big Three in the first place.
SP: As an NBA fan that would be hugely intriguing if the Suns are capable of pulling that off. However, as you mentioned the Eastern Conference is less competitive and James will want to continue to appear in the NBA Finals at the very least. Miami will find a way to keep him and put together what they can elsewhere, but it won't be enough.