---
Just like in other sports, soccer players experience injuries. The injuries can either be critical or progressive. Severe injuries occur when players collide or fall, and they cause trauma. On the other hand, progressive injuries often cause repeated pain on muscles and joints. Proper identification of an injury can help to administer the right treatment. Here are some of the common soccer injuries and their treatments.
Sprains and Strains
A sprain occurs when tissues that connect bones to a joint stretch. It may occur when a player falls and get hit, or twists an ankle or knee. A player may not be able to move when a sprain occurs. A strain occurs when tissues connecting muscles to bone stretch. If the tissues pull or twist, strain occurs. A muscle strain may occur suddenly or develop gradually. In most cases, sprain and strain happen at the knee. If not well treated, severe knee injuries can compromise a player's career. Knee ligament injury almost cost Zlatan's career in soccer while playing against Anderlecht.
When a player experiences sprain or strain, applying RICE (rest, ice, compression, and elevation) would be prudent for minor cases. However, if the damage is intense, a player may need a doctor's evaluation. Some sprain and strain cases may require surgery.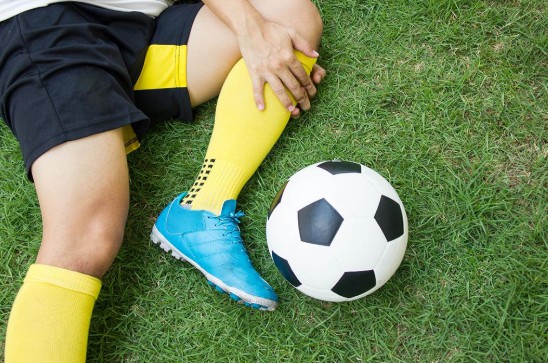 Head injuries
Many players experience head injuries when they get head-on collisions with their opponents. A player may also stumble, and their heads land on an opponent's knee or any other body part. Also, a player's head can hit a goal post, ground, or any other object. These contacts may cause concussions and fractures. An estimate of 200,000 United States athletes suffers from concussions every year. Concussions may lead to memory loss, headache, or unconsciousness.
After being hit on the head, a player should take a rest. Rest enables the brain to relax and recover. Administering pain relievers and applying ice may also help to reduce swelling. If the damages are extreme, immediate medical attention should be sought.
Fractures
Fractures occur when a player hits an object or collides with another player bone to bone. Simple collisions may cause minor injuries such as bruises or shallow cuts. However, hard crashes may result in severe fractures, which may lead to acute pain to the victims. For minor fractures, players can have a rest and regain. Rest, ice, compression, and elevation (RICE) would also be a brilliant idea. For the swollen body parts, ice can help to reduce the pain. As usual, if the fracture proves to be intense, it may require a swift assessment by a professional physician. 
Generally, most soccer injuries affect the bony parts of a player; the limbs and skull. However, other body parts are also vulnerable to injuries. A player can experience mild injuries that may cause pain to their abdomen, or even chest pains. The injuries may range from simple bruises to severe damages that may require medical attention, stitching, or even surgery. Just like other injuries, first aid may come in handy. However, if the pain persists, it's always advisable to seek the services of a medical practitioner.