---
Jekyll and Hyde two weeks is the big talking point for top Dolphins receiver.
Miami have joined New England at the top of the AFC East Division after downing the Indianapolis Colts 24-20 in week two of the NFL season.
After a first-up performance of just one reception for 15 yards in the Dolphins win over Cleveland in week one, Mike Wallace step up his performance in a big way.
The lead receiver for the Miami offence lived up to the tag as he made nine receptions for 115 yards, at an average of 12.8 each with a touchdown to round out his stat line.
Wallace fired out of the gate with seven catches in the first-half alone as the Dolphins used creative ways to get their main main open, after being smothered by the Browns the week before.
The tricks worked as Wallace saw plenty of the ball on short medium and intermediate routes through the Colts secondary.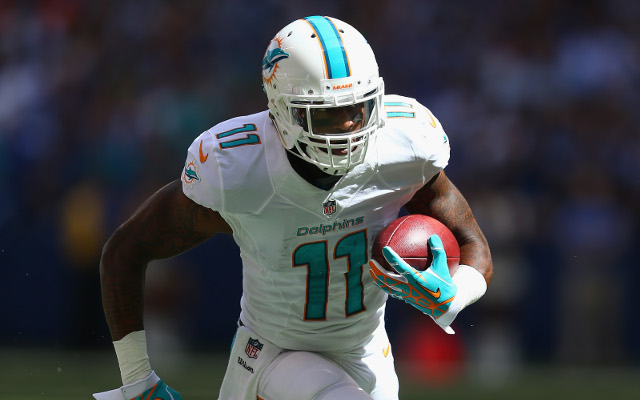 "I think the Thursday off really helped," Wallace explained.
"It was a big thing for us. I was asking all the guys in the huddle, and I said, 'Man, I feel pretty good today.' Everybody said their legs feel fresh."
Miami quarterback Ryan Tannehill said it just made sense to try and get the ball to Wallace when he was clearly having a day out.
"We knew coming in we wanted to get him involved," Tannehill said of Wallace. "He is a playmaker and when you have a playmaker like that you want to give him the ball."
The game was still in the balance for either side to grab it, however, Wallace tricked Colts cornerback Tolar into a fake.
Buying into the jink, Tolar desperately tried to grabbed Wallace, but it was no used as the Dolphins scored a 34-yard run down to the Colts' one-yard line.
Miami declined the holding penalty and then scored on the next play, ending the Colts' chance of victory.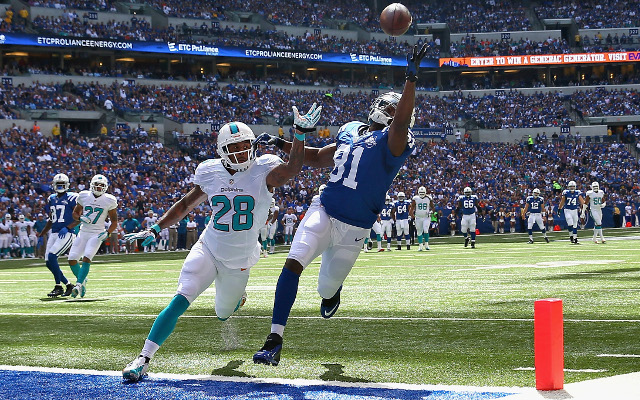 "The deep pass I gave up, my eyes, like, played tricks on me," Toler said.
"They set me up for it. They saw that I was playing aggressive. I overplayed it. You just have to go back to the film room and study that."
Colts quarterback Andrew Luck did all that he could in throwing for 25-43 for 321 yards, while TY Hilton earned 124 yards on six receptions.
Indianapolis fell to be third in the AFC South standings and will look to get back on track when they play San Francisco.
Miami are flying high after their two wins in as many weeks and they will look to keep that momentum rolling when they tackle the Atlanta Falcons (1-1) next Sunday.