---
Liverpool will revert to a wing-back formation against Spurs, and pray that Luis Suarez gets them out of jail once more… 
The crisis:
Despite their excellent recent form, Liverpool fans are becoming increasingly nervous over the growing number of injured players in Brendan Rodgers' paper thin squad.
During the 4-1 victory over West Ham at the weekend, Steven Gerrard limped off with a hamstring tear that is set to keep him out for six weeks, and Jordan Henderson suffered bruising on his ankle following a reckless challenge from Kevin Nolan that earned the Hammers skipper a red card.
Because of Luis Suarez's ludicrous recent form, the mounting injury crisis at Anfield has been underplayed, but it is no doubt starting to cause some serious concern for Rodgers.
On top of the new setbacks, first-choice left-back Jose Enrique is out for a considerable time, as is Daniel Sturridge, who has scored nine league goals already this term.
So let's take a look at how the Northern Irish boss will have to adapt against Spurs on Sunday…
The formation:
Liverpool's manager has impressed many this term with his ability to maintain a pressing, passing style of football in various formations.
Rodgers has already used a wing-back formation, a modern 4-3-3, and a 4-3-1-2 (although the latter was born out of a desire to play Coutinho, Suarez and Sturridge in their proper positions).
Now with his depletion of central midfielders, it seems as though Rodgers will be forced to play two in the middle, meaning his wing-back formation becomes the most natural choice.
This will enable Lucas and Joe Allen to sit deep in midfield, allowing Coutinho to take his favoured no.10 spot behind two forwards.
(If Rodgers desperately wanted to play with three in the middle, he could arguably deploy Daniel Agger as a holding midfielder, or Coutinho in a deeper role – but both these options seem unlikely.)
By using this lineup, Rodgers is maximising the limited options he has it his disposal…
Liverpool are very strong at centre-half, so playing three at the back makes sense in respect of getting the best players available to him on the pitch.
Similarly, Liverpool's wingers are out of form (and potentially not good enough anyway) so not using any and focussing play through the excellent Coutinho seems a more natural choice.
In fact, the only problem position would be the advanced player to support Suarez. Aspas, Sterling and Moses all could be used, and would be encouraged to drift wide into the flanks to provide the Reds with the width this formation lacks.
Spurs' advantage:
It looks as though the powerful Spurs midfield could dominate the centre of the park. With Mousa Dembele, Paulinho and Sandro, Tottenham have dynamic, strong athletic players in midfield, which Liverpool definitely do not.
Allen is a good passer, but physically inept, and while Lucas is a brilliant interceptor and tackler, he's slow and immobile.
At White Hart Lane especially, Spurs could overload the middle of park, and take a stranglehold on the game.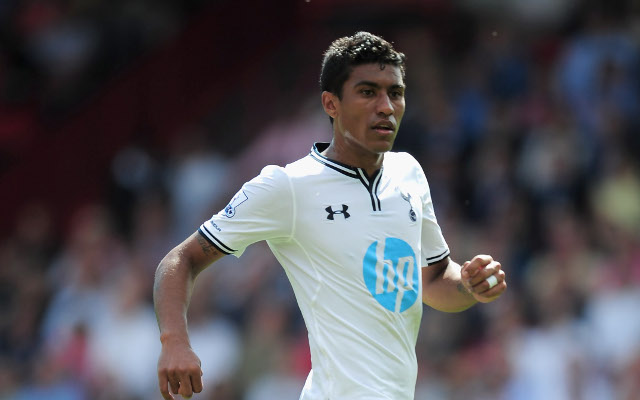 Liverpool's advantage: 
Much like Tottenham did for the majority of last season, Liverpool can rely on the league's best player to get them out of trouble. Luis Suarez has scored a mind-blowing 14 goals in just ten league matches, and has more than enough ability to put an injury ridden Spurs defence to the sword.
While Tottenham could well dominate possession, few would bet against Suarez putting away a chance if it is presented to him.
On the other hand, Spurs have struggled to score goals all season, and this could well be the difference on Sunday.