---
Reds and their star attacker have accepted The FA's verdict.
Liverpool front man Luis Suarez has accepted his ten-game ban for biting Chelsea defender Branislav Ivanovic in the Premier League clash at Anfield on Sunday.
The club gave the in-form striker the option of whether to appeal against the ban, which will see the 26-year-old miss the final four Premier League games of this season and the first six domestic matches of next term
But, with a deadline of noon on Friday, the attacker has decided to accept the punishment rather than risk the governing body further increasing the suspension if they had deemed his and the Reds' appeal to be frivolous.
As a result, the controversial forward will now start his ban this weekend with Liverpool's trip to take on Newcastle United in the top flight on Saturday afternoon, and speculation is already mounting that Suarez will seek to leave Liverpool this summer.
The former Ajax star announced his decision not to appeal on his own Twitter page, releasing the below statement: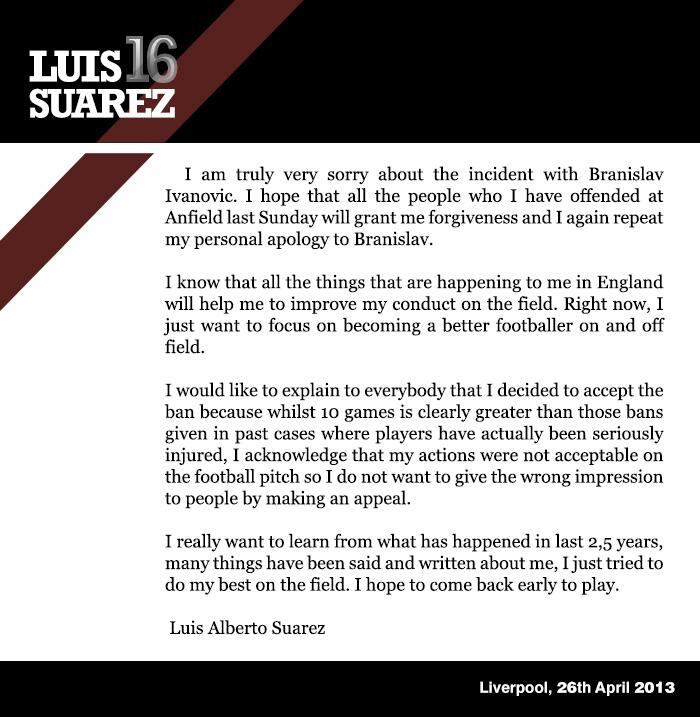 Liverpool managing director Ian Ayre also released a statement on the club website, reading: "The charges against Luis were his to consider and we have to respect his decision to not appeal the 10-game ban.
"We are all disappointed at the severity of the punishment and in particular the differing standards that have been applied across various previous incidents.
"Luis is an important member of our team and nothing has changed in that regard.
"We are committed to helping him improve his conduct and he will be given our full support. We look forward to him returning to the team next season when he is available for selection."
Meanwhile, Liverpool manager Brendan Rodgers added: "We can't hide our disappointment at the outcome of this situation, but we have to move on and support Luis in his decision.
"Luis has made a huge contribution to the squad this season and we respect his decision to accept the ban.
"He will be missed for the remainder of this season and the early part of next, but we will have the opportunity to welcome a better person and player when he returns."