---
UFC fighter compares Rising Sun symbol to Nazi swastika.'The Korean Zombie' Chan Sung Jung has hit out at the choice of walkout clothing used by UFC welterweight champion Georges St-Pierre before his latest title defence against Nick Diaz.
St-Pierre walked to the octagon before the main event in his home town of Montreal, Canada with a large "Rising Sun" symbol emblazoned on the side of his white gi.
The symbol is of particular offense to Koreans, as it stands of militarism and war crime acts committed against people of those countries by the Japanese.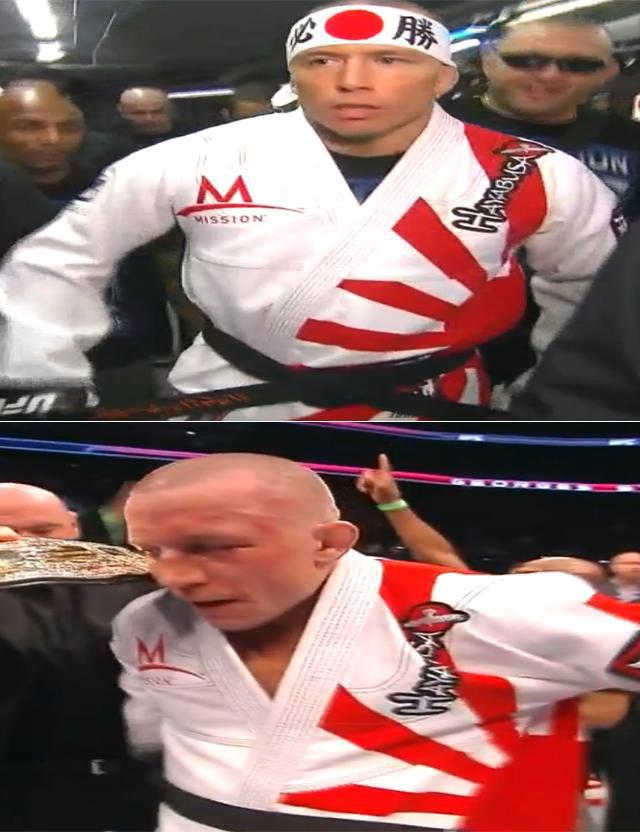 Source: Chan Sung Jung Facebook.
Chan Sung Jung took to his Facebook page to respectfully ask the man known as GSP why he chose that sponsored gi to wear before the his title fight.
"I feel like I should tell you that many Korean fans, including myself, were shocked to see you in your gi designed after the Japanese 'Rising Sun Flag'," Sung Jung said.
"For Asians, this flag is a symbol of war crimes, much like the German Hakenkreuzflagge. Did you know that? I hope not.
"Many people say GSP is the best Welterweight fighter throughout history, to which I totally agree.
"This means you have a great influence on every single fan of yours all around the world. And I do believe your wearing 'the symbol of War Crime' is a very bad example for them, not to mention for yourself.
"So, what do you reckon? Do you want to wear the same gi next time as well?"
St-Pierre has often worn Japanese-styled clothing before his bouts and is well-schooled in Kyokushin kaikan, a Japanese form of karate.
After claiming his 11th win in a row after defeating Diaz, St Pierre's next challenge will come in the form of hard-hitting wrestler Johny Hendricks, who earned the number one contender slot after defeating Carlos Condit also at UFC 159.