---
Home side tighten their grip on the match thanks to early wickets.
India was struggling at 130-4 after day two of the first Test against New Zealand, who posted a daunting 503-run first innings built on a double century by Brendon McCullum.
In a dramatic start to India's reply, New Zealand claimed the prized scalps of Cheteshwar Pujara and Virat Kohli in a withering burst from Tim Southee and Trent Boult that reduced the tourists to three down for only 10 runs.
Pujara, who averages 66.25, went for one and Shikhar Dhawan a duck as both fell in the opening over when they edged good-length deliveries from Boult.
Kohli's sole scoring shot was a four off Boult before a sharply rising bouncer from Southee nicked his glove and popped into the hands of Peter Fulton at second slip.
Kohli was reluctant to leave and indicated the ball hit his helmet but replays showed it deflected from the helmet to the glove and then to Fulton.
By tea, India were limping at 45-3 but the situation become more dire after the resumption of play, when a swinging Neil Wagner delivery beat Murali Vijay (26) and broke the bails.
Rohit Sharma (not out 67) and Ajinkya Rahane (not out 23) survived through to stumps. While they were troubled by Southee's barrage of rising deliveries they were able to score freely off spinners Ish Sodhi and Kane Williamson.
Play was called off 17 overs before the scheduled end because of bad light.
When New Zealand resumed the day at 329-4, McCullum spearheaded a blistering end to their innings as they put on 174 runs in 31.4 overs.
The New Zealand skipper was the last wicket to fall for 224, one run short of his career best 225, also set against India at Hyderabad in 2010.
He went to the middle when New Zealand were in early trouble on the opening day at 30-3, rescuing the innings with a 221-stand for the fourth wicket with Williamson who fell for 113. Corey Anderson posted 77 in adding 133 for the fifth wicket.
McCullum continued to plunder the bowling and became only the fourth New Zealander to score more than one double century, behind Glenn Turner (two), Stephen Fleming (three) and Mathew Sinclair (two). He also set the highest score by a New Zealander and fourth best overall at Eden Park.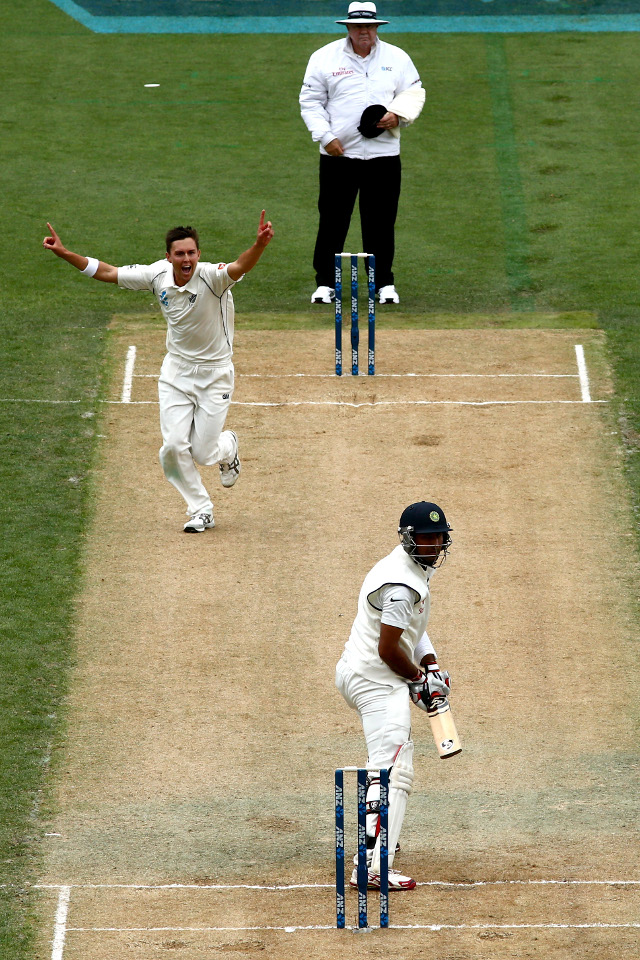 In his marathon stand lasting just under eight hours, McCullum faced 307 deliveries and belted 29 fours and five sixes before being dismissed by a remarkable catch on the boundary by Ravindra Jadeja off Ishant Sharma.
The fieldsman leapt for the ball and flicked it high as he was about to stumble over the boundary before returning to the field of play to complete the catch.
Sharma was the pick of the Indian bowlers with six for 134 while Zaheer Khan finished with two for 132.
Scoreboard at stumps on the second day of the first Test between New Zealand and India at Eden Park on Friday:
New Zealand 1st innings (overnight 329-4)
P. Fulton lbw Khan 13
H. Rutherford c Rahane b I. Sharma 6
K. Williamson c Dhoni b Khan 113
R. Taylor c Jadeja b I. Sharma 3
B. McCullum c Jadeja b I. Sharma 224
C. Anderson lbw I. Sharma 77
B. Watling c Dhawan b I. Sharma 1
T. Southee b Shami 28
I. Sodhi c R. Sharma b I. Sharma 23
N. Wagner c Kohli b Jadeja 0
T. Boult not out 1
Extras: (b1, lb5, w5, nb3) 14
Total: (all out; 121.4 overs) 503
Fall of wickets: 1-19 (Rutherford), 2-23 (Fulton), 3-30 (Taylor), 4-251 (Williamson), 5-384 (Anderson), 6-398 (Watling), 7-434 (Southee), 8-490 (Sodhi), 9-495 (Wagner), 10-503 (McCullum)
Bowling: Shami 28-6-95-1 (2w), Khan 30-2-132-2 (1w), I. Sharma 33.4-4-134-6 (2w, 3nb), Jadeja 26-1-120-1, Kohli 1-0-4-0, R. Sharma 3-0-12-0
India 1st innings
S. Dhawan c Williamson b Boult 0
M. Vijay b Wagner 26
C. Pujara c Watling b Boult 1
V. Kohli c Fulton b Southee 4
R. Sharma not out 67
A. Rahane not out 23
Extras: (b5, lb1, nb3) 9
Total: (four wickets, 39 overs) 130
Fall of wickets: 1-1 (Dhawan), 2-3 (Pujara), 3-10 (Kohli), 4-51 (Vijay)
To bat: M. Dhoni, R. Jadeja, Z. Khan, I. Sharma, M. Shami
Bowling: Boult 10-1-20-2 (2nb), Southee 12-3-27-1, Anderson 2-0-9-0, Wagner 7-0-46-1 (1nb), Sodhi 6-0-13-0, Williamson 2-0-9-0
Toss: India
Umpires: Steve Davis (ENG), Richard Kettleborough (ENG)
TV umpire: Gary Baxter (NZL)
Match referee: Ranjan Madugalle (SRI)