---
Seventeen wickets fall on a crazy day as the Test match is turned on its head.
New Zealand seized control of the first Test against India and then proceeded to let go in a frenetic third day Saturday which saw 17 wickets fall.
India, who started the day at 130-4 in their first innings, were 87-1 at stumps in their second innings as they chased a formidable 407 to win on a flat Eden Park track.
They require a further 320 runs for victory with nine wickets in hand and two days remaining.
Only two teams have scored more in the fourth innings to win a Test — the West Indies' 418-7 against Australia in 2003 and South Africa's 414-4 against Australia in 2008.
Murali Vijay (13) was the wicket to fall in India's second innings when he feathered a Tim Southee delivery heading down the leg side and wicketkeeper BJ Watling was quickly across to take the catch.
Shikhar Dhawan, who was dropped on seven, will resume Sunday on 49 with Cheteshwar Pujara on 22.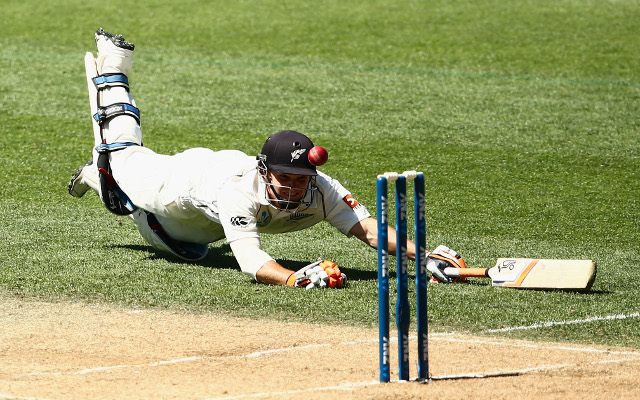 "The momentum is with us and we will look to capitalise on that. It was important that we have a good start (to the second innings) which we got," veteran bowler Zaheer Khan said.
New Zealand bowler Neil Wagner described it as a "bittersweet day" as they won then lost the initiative and said the outcome would hinge on the first session Sunday.
"It all depends how we start. If we put a lot of pressure on India and get a couple of quick wickets it will set the game up nicely for us," he said.
New Zealand felt they had a firm grip on the match after bundling out India for 202 in reply to their first innings 503.
But any elation at holding a 301-run lead against the second-ranked side in the world turned to despair after McCullum decided not to enforce the follow on and New Zealand self-destructed in their second innings.
They were rolled for 105 and only a last wicket stand of 25 by Wagner and Trent Boult avoided the ignominy of being the first side to score more than 500 in the first innings and less than 100 in the second.
A rejuvenated Indian attack seduced the New Zealanders into a series of rash shots, and sharp catches were held by an invigorated fielding effort.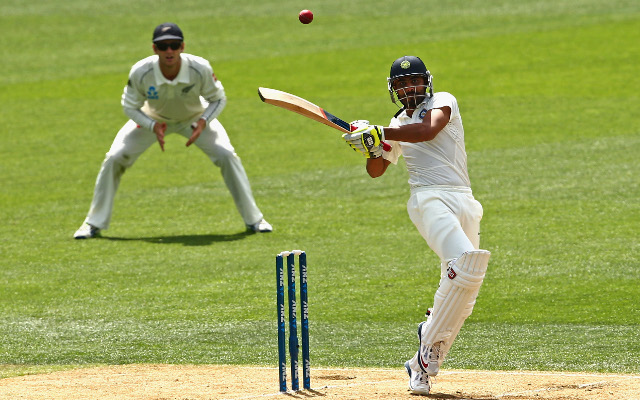 Out-of-form openers Peter Fulton (five) and Hamish Rutherford (duck) were gone within three overs, and first innings centurions Kane Williamson (three) and McCullum (one) quickly followed.
Williamson went to an exceptional one-handed catch by Ravindra Jadeja at midwicket while McCullum was run out taking an unnecessary single in the last over before lunch.
From 15-4 at lunch, New Zealand's troubles worsened to 25-5 after the break with the removal of Corey Anderson for two.
Ross Taylor negotiated his way to 41, but when he slashed at a short, wide delivery from Khan and was well caught one-handed by Ajinkya Rahane in the gully New Zealand's last recognised batsman was gone.
Pacemen Mohammed Shami with three for 37 and Ishant Sharma with three for 28 were the leading wicket takers for India.
Earlier in the day, India lost the last six wickets of their first innings for 72.
Southee and Boult struck early, with Ajinkya Rahane (26) nicking a Southee outswinger to Taylor at first slip and Boult bowled India's batting mainstay Rohit Sharma for 72.
Wagner sealed the end when he claimed captain Mahendra Singh Dhoni (10) and carved into the tail.
Wagner finished with four 64 while Southee and Boult both returned three for 38.
Scoreboard at stumps on the third day of the first Test between New Zealand and India at Eden Park on Saturday:
New Zealand 1st innings 503 (B. McCullum 224, K. Williamson 113, C. Anderson 77; I. Sharma 6-134, Z. Khan 2-132)
India 1st innings (overnight 130-4)
S. Dhawan c Williamson b Boult 0
M. Vijay b Wagner 26
C. Pujara c Watling b Boult 1
V. Kohli c Fulton b Southee 4
R. Sharma b Boult 72
A. Rahane c Taylor b Southee 26
M. Dhoni c Watling b Wagner 10
R. Jadeja not out 30
Z. Khan c Watling b Wagner 14
I. Sharma c Boult b Southee 0
M. Shami c Fulton b Wagner 2
Extras: (b5, lb6, w3, nb3) 17
Total: (10 wickets, 60 overs) 202
Fall of wickets: 1-1 (Dhawan), 2-3 (Pujara), 3-10 (Kohli), 4-51 (Vijay), 5-138 (Rahane), 6-138 (R. Sharma), 7-167 (Dhoni), 8-188 (Khan), 9-189 (I. Sharma), 10-202 (Shami)
Bowling: Boult 17-2-38-3 (2nb), Southee 19-6-38-3, Anderson 5-0-29-0 (3w), Wagner 11-0-64-4 (1nb), Sodhi 6-0-13-0, Williamson 2-0-9-0
New Zealand 2nd innings
P. Fulton c Jadeja b Shami 5
H. Rutherford lbw Shami 0
K. Williamson c Jadeja b Khan 3
R. Taylor c Rahane b Khan 41
B. McCullum runout (Jadeja/I. Sharma) 1
C. Anderson b Shami 2
B. Watling b I.Sharma 11
T. Southee c Pujara b Jadeja 14
I. Sodhi c R. Sharma b I. Sharma 0
N. Wagner c Jadeja b Sharma 14
T. Boult not out 7
Extras: (b4, w1, nb2) 7
Total: (all out; 41.2 overs) 105
Fall of wickets: 1-1 (Rutherford), 2-9 (Fulton), 3-11 (Williamson), 4-15 (McCullum), 5-25 (Anderson), 6-63 (Taylor), 7-78 (Southee), 8-78 (Watling), 9-80 (Sodhi), 10-105 (Wagner)
Bowling: Shami 12-1-37-3 (1w), Khan 9-2-23-2, I. Sharma 10.2-3-28-3 (1nb), Jadeja 9-4-10-1, R. Sharma 1-0-3-0
India 2nd Innings
M. Vijay c Watling b Southee 13
S. Dhawan not out 49
C. Pujara not out 22
Extras (w1, nb2) 3
Total (one wicket; 25 overs) 87
Fall of wickets: 1-36 (Vijay)
Bowling: Boult 6-0-28-0 (1nb), Southee 5-0-18-1, Wagner 6-2-11-0 (1nb), Anderson 3-0-8-0 (1w), Sodhi 4-1-17-0, Williamson 1-0-5-0
Toss: India
Umpires: Steve Davis (ENG), Richard Kettleborough (ENG)
TV umpire: Gary Baxter (NZL)
Match referee: Ranjan Madugalle (SRI)