---
The Blues regularly cautioned for simulation.
Diving is often a hot topic of discussion when it comes to football, and there are always difference of opinion over who dives more. However, now there is irrefutable proof that Chelsea are the worst culprits as they now sit top of the dive table.
SEE ALSO:
Live Liverpool v Swansea Streaming & Premier League Match Preview
2014 In Pictures: Reliving The Big Football Stories
Chelsea transfer news
Clocking up double what their nearest rivals Manchester City have received, it now seems that Jose Mourinho doesn't practice what he preaches when it comes to simulation and opposition teams are now becoming more savvy when it comes to their antics.
Sunderland are also surprisingly high on in the table, whilst the likes of Arsenal, Liverpool and Manchester City all have one each.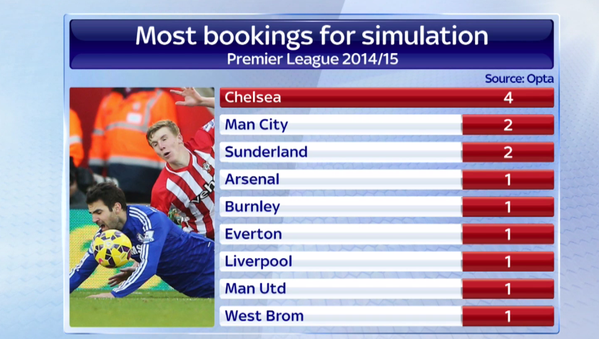 SEE ALSO: Best young football players in the world!