---
Taylor sends potentially racist tweet to teammates Massadio Haidara, Moussa Sissoko and Vurnon Anita.
The latest racism shitstorm to engulf Premier League football could be on the about to break after Newcastle's Steven Taylor sent a bizarre tweet to four of his black teammates.
Massadio Haidara tweeted a picture of Taylor reading a book and the centre-half responded with a tweet directed at the Frenchman, plus fellow black teammates Vurnon Anita, Moussa Sissoko and Papiss Cisse. It read 'it's always good to see you guys smiling' accompanied by a picture of four black stereotypes, including a what looks like an African tribesman and someone in an afro wig.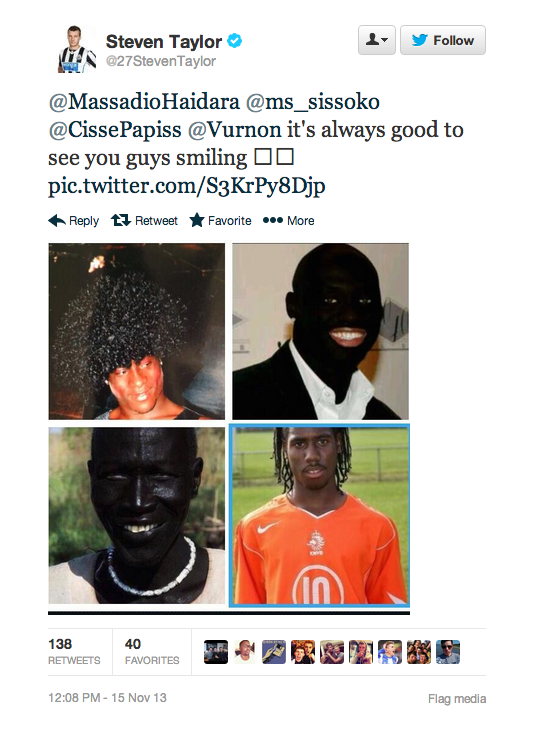 Within minutes, the tweet had over 150 retweets and was threatening to go viral.
Taylor has never come across as the sharpest tool in the box but by all accounts he is a popular character at St James' Park, so one can only assume this is ill-thought out "banter" gone horribly wrong.
Even so, we fully expect the Black Lawyers' Society to appear on Sky Sports News demanding Taylor's immediate execution within minutes…watch this space.
UPDATE: Haidara confirmed shortly after that the tweet was intended as 'banter', while Taylor has apologise for potentially causing offence.
Banter* .

— Massadio Haidara (@MassadioHaidara) November 15, 2013
@27StevenTaylor Is Just Bander with Papiss , Moussa , Vurn' and Me . He joke with me 2 min before .

— Massadio Haidara (@MassadioHaidara) November 15, 2013
Apologies if my tweet offended anybody.

— Steven Taylor (@27StevenTaylor) November 15, 2013