---
Amazing evidence the shows Jack Wilshere is getting worse.
Check in to Arsenal vs Manchester City
An amazing new infographic has surfaced that shows that Arsenal midfielder Jack Wilshere is becoming a worse player as the years go by.
READ MORE:
Top 10 debuts we're most excited to see this weekend: Man United new boys and Arsenal striker all set to take bows
Arsenal's Yaya Sanogo warns Danny Welbeck he will have to fight for his place
Arsenal line up £9.6m Barcelona starlet dubbed the 'new Cesc Fabregas'
Much has been expected of young Wilshere, who burst onto the scene as a prodigious talent back in 2010, but it seems now rarely a day goes by without an ex-pro sticking the boot into the midfielder and criticising his development.
Arsenal boss Arsene Wenger has already hinted that this is a make or break season for the young Englishman, as his first team spot is far from safe thanks to the upturn in form of Welsh international Aaron Ramsey.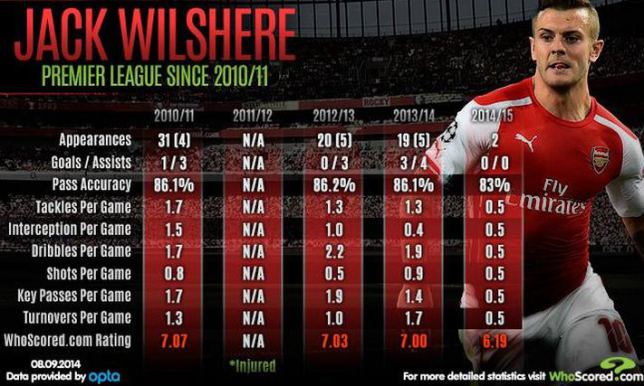 However, thanks to Who Scored a graphic compiling his performances over the past four seasons has shown that he does still indeed have a lot to prove.
There is no difference in his goals or assists tally, though he made fewer key passes per game last season than he did in his first, and his passing accuracy remains virtually the same in all three of the seasons where he featured regularly.
He has also made less tackles and interceptions per game in his previous two campaigns than he did in his debut season, and his possession turnover rate last year went up from his teenage years.
It does make for grim reading, though, for both Arsene Wenger and Roy Hodgson, and following his recent indiscretions he will need to prove that he is worthy of the hype after all.
SEE ALSO: best Premier League players 2014/15