---
Golden State Warriors star Draymond Green has a fierce mother, as she hit back at a writer who snubbed her son in his All-Defensive NBA team.
READ MORE:
Draymond Green calls out Clippers: Warriors star says they have "cocky arrogance".
Warriors to match any Draymond Green offer: Green is going nowhere this summer.
Draymond Green hits back at Doc Rivers: Pair have clashed through the media.
Akron Beacon Journal's Jason Lloyd had already got people talking by revealing that his vote for MVP went to local favourite LeBron James over both Stephen Curry and James Harden.
However, he went one further by giving the Warriors no recognition and when Mary Babers-Green learned that he had also snubbed her son for the All-Defense team too, it was too much for her to remain silent.
Lloyd insisted in a special side-note that he just didn't see how Green would get in despite many people disagreeing with him, as he chose Utah Jazz centre Rudy Gobert above him and argued that several players had agreed with his assessment.
While it was certainly difficult to argue with any of his other choices, the decision to leave Green out was a difficult one to accept and his mother didn't hold anything back in her response.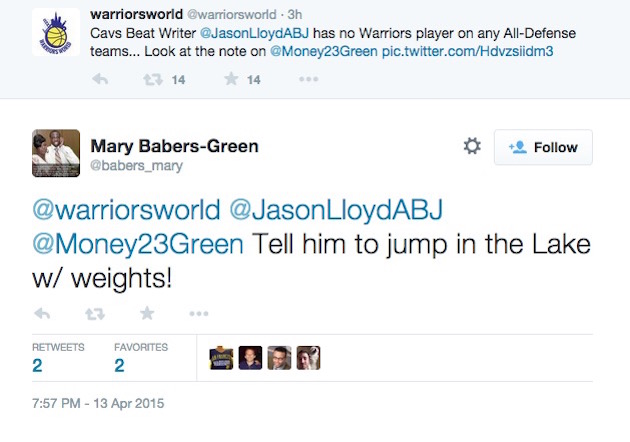 It appears as though Mrs. Green has since deleted the post, but it wasn't before several media outlets were able to grab a screenshot of her comment. Ouch!