---
Melo has previously been linked with a move to Chicago in free agency.
With speculation rife over his future, Carmelo Anthony suffered what he described as an "embarrassing" defeat to the Chicago Bulls at the United Center on Sunday night.
However, one fan in Chicago believes he already knows what the 29-year-old's next move will be when he enters free agency this summer, and that is one which will see him arrive in the Windy City for next season.
Anthony has remained tight-lipped about his long-term future, although he did hint during the All-Star break that he would be willing to take less money in order to help the Knicks build a competitive roster moving forward.
However, with their struggles both on and off the court this season and his general mood in recent weeks as the frustration grows with his current situation, there are reports that he will consider all his options this summer.
Having traded Luol Deng and with speculation that they will use the amnesty clause on Carlos Boozer, the Bulls could well be making moves to create the required cap space in order to land a big-name free agent such as Anthony.
While it would impact on the depth of their roster, they could emerge as an option for the seven-time All-Star, with the appeal of playing alongside Derrick Rose and turning the Bulls into a genuine contender in the Eastern Conference.
Tom Thibodeau's team have shown this season what they are capable of achieving without their star point guard, but to add Rose and Anthony to this roster could push them to a level that would surpass the likes of the Miami Heat and Indiana Pacers.
This fan certainly hopes so…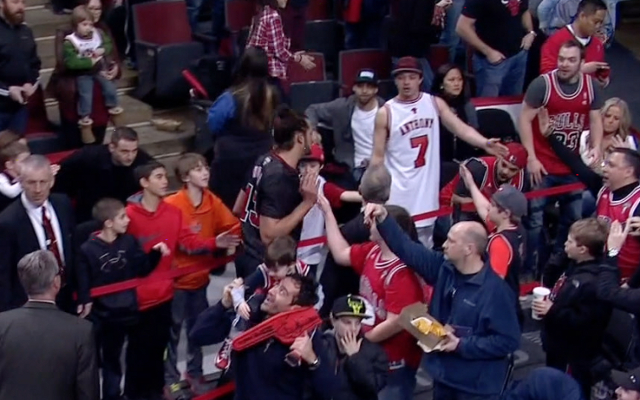 Image courtesy of Bleacher Report.