---
Fans in Catalonia not happy about the sale of the Thiago.
The expected transfer of midfielder Thiago Alcantara from Barcelona to Manchester United this summer is set to make Barca fans revolt, reports Spanish newspaper Sport.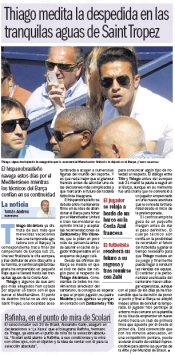 The Spain under-21 international has been heavily linked with a move to Old Trafford after being underused in a Catalan team brimming with talent – such as Xavi, Andres Iniesta and Cesc Fabregas.
Yet the prospect of selling Thiago has stirred anger in the Barca fans, not at the player but at the hierarchy of manager Tito Vilanova and president Sandro Rosell.
The supporters believe that by selling the 22-year-old Barca are giving the completely wrong impression about their priority to youth and plan to revolt if the deal goes through.
Rosell has been an unpopular figure at the Nou Camp following the way he handled Eric Abidal's departure from the club, with the defender feeling he was forced out shortly after recovering from liver cancer.