---
Cincinnati score thanks to their star's brilliance.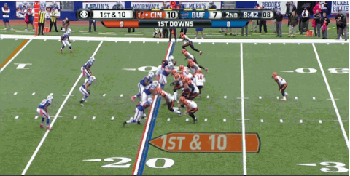 The Cincinnati Bengals have to be thrilled with Giovani Bernard, who was their second-round pick this year, so far.
On Sunday, the speedster juked his way through the Buffalo defense, threw in a stiff-arm and carried a defender into the end zone.
Bernard has provided a big boost to Cincinnati's offense this season. His latest play gave the Bengals a 17-7 lead over the Bills.
This is what makes the NFL great with some of the best athletes on the planet plying their trade every week, with Bernard's run showcasing what makes the game so great.