---
Green Bay continue to struggle even after pulling off a defensive play.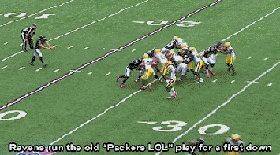 Will anything go right for the Packers against the Ravens this week?
The Green Bay Packers are having a tough day. Muffing a blocked punt pretty much says it all.
Here's the situation. The Ravens punt on 4th-and-13 in the second quarter. Green Bay manages to block it. So far, so good, right?
Wrong.
The ball goes beyond the line of scrimmage. Green Bay tries to scoop it up, but can't get it. The Ravens pounce on the ball. First down, Baltimore.