---
Heavyweights collide as part of UFC on Fox 7 this weekend. 
After 22 mixed martial arts fights, you would think Frank Mir had learned almost every there is to know about the fight game.
But with the former UFC heavyweight champion on the outside looking in regarding the title picture, Mir has gone back to school in the lead-up to his bout with Daniel Cormier this weekend.
Despite living a training in argubably the Mecca of mixed martial arts, Las Vegas, Mir has changed his training camp in a bid to look at fight preperation differently.
Now he's a part of Greg Jackson's incredible stable of fighters that train in Albuquerque, New Mexico.
At 33 years of age and having won the UFC heavyweight title and secured the most wins in the division's history, Mir said he needed to find a new motivation ahead of facing the up-and-coming Cormier.
"Not being with the children, not seeing my wife it's funny, sometimes my coaches have tried to find that spark," Mir said.
"Because sometimes people can see I just don't show up, I don't want to miss out on anything (away from fighting), but now I am missing out on something, and who knew that (being away from home) was the spark.
"My greatest fear right now is to retire and not reach my full potential."
Mir brings with him unmatched skills on the ground in the heavyweight division, having secured the third most submissions in UFC history, most submission wins as a heavyweight and securing the fastest tap just to round out his portfolio.
However, according to Jackson, Mir is as fit as he has ever been before a fight and will look to push the pace on the feet before looking to get the win inside the 15 minute time limit.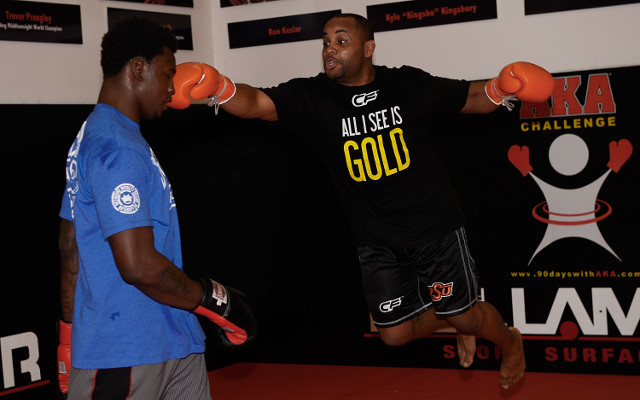 But to do that, Mir will have to overcome one of the most exciting heavyweight prospects in MMA.
Cormier might be older than Mir at 34, but he had a crash course in the fight game after coming from a world-class wrestling background that saw him make the 2004 and 2008 American Olympic teams.
But he has learnt quickly.
Armed with an 11-0 record to date, Cormier said without the influence of American Kickboxing Academy, he would not be where he is today.
"I knew how to compete, but I didn't know how to punch, I didn't know how to kick and I didn't know what jiu-jitsu was, and I learned it all in this gym," Cormier said,
"I owe everything I do in that cage to the people are American Kick Boxing Academy."
However, Cormier has his own impressive stablemates, with current UFC heavyweight champion Cain Velasquez also training out of AKA.
"Anytime you fight a guy like Mir you got to prepare hard and ypu have got to preare well and I think my team has got my in a good place to win the fight," Cormier said.
"I never reached the peak of wreslting, I never won the big one, but I want to win the big one in the UFC.
"I can't tell you how this fight is going to end, I don't know if I'm goign to knock him out, I don't know if I'm going to submit him.
"But you listen to my words, they all end with me winning."