---
MMA fans still trying to decipher what they witnessed in the UFC 162 main event.
Days have passed but the disbelief, anger and generous doses of tall poppy syndrome have all been in affect since UFC 162.
After being on top of his division, the UFC and the sport of mixed martial arts in general for close to seven years, the king is no more.
Anderson Silva lost his UFC middleweight title in what was his 11th time in defending it, with Chris Weidman stunning the MMA world with a second round knockout.
But it was the way in which it transpired that had most either shaking their heads in disbelief or claiming it was a fix.
By the way, if it was a fix, it would have been Weidman who would have gone down quickly as the UFC had more to gain from potential super fights with Silva facing Jon Jones or Georges St-Pierre, but that's besides the point.
Yes Silva has fought with a loose style before even by his own standards, the bouts against Forrest Griffin and Demien Maia spring to mind
On those occasions Silva showed almost a precognitive recognition as to where his opponents strikes were going to be after a feeling-out period.
After he toyed with his foe as a cat does with a ball of string and he put them away, we the MMA loving public rightly sung his praises as performing feats seldom seen by man.
But while Silva's antics seemed to have worked at the end of the first round, with Weidman unable to land a strike or unwilling to shoot for a takedown, he went to the well one too many times.
Rather than going back into a conventional style to begin the second and continue to study his hungry challenger, Silva continued to mock and taunt and eventually he found himself on the edge of a cliff.
He was responsible for putting himself on that edge, before being knocked off with three well-timed shots by Weidman, ensuring the king was usurped.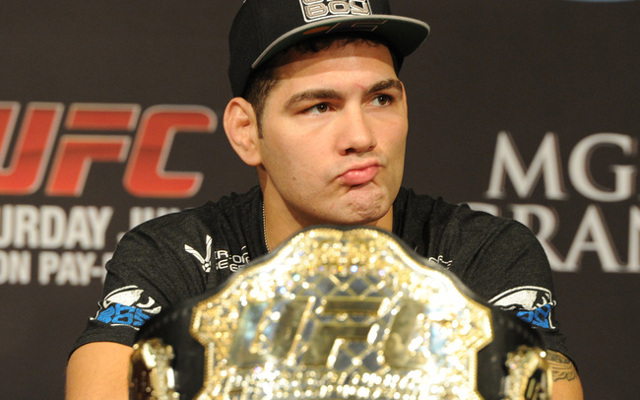 Apart from the dawning of a new era in the UFC and its middleweight division, the biggest focal point has been the former champion's reaction.
Silva has not lost since 2006, and while he does have previous losses on his record, he has forgotten what it's like to lose, especially in the harsh glare of the UFC and even more so in the biggest title fight of the year.
His loss has transcended mixed martial arts.
But is he glad to have handed over the gold, even if only for a little while?
Superman has his kryptonite and maybe Silva's was the belt he had carried for close to seven years
Even if he did not want to admit it, but maybe, losing was a release for him.
He said he was tired after the fight, and that he was done with belts.
Before the UFC 162 he spoke of the weight of expectation of being the face of the UFC in many ways and not putting a toe out of place or risk accidentally dragging his own name and the name of the promotion through the mud
And while somebody of Silva's martial arts ethics would never throw a fight, maybe even at a near subconscious level, the former champion was happy to be rid of the gold.
That is my Prize …… pic.twitter.com/lJKURPO55t

— Anderson Silva (@SpiderAnderson) July 8, 2013
Whether he wins it back or not seems largely up to him more or less, whether he wants to fight for it again.
If he wants to, again signalling that even in defeat, Silva's warranted status in the sport remains.
Weidman, who was gracious to offer his vanquished foe a rematch at the risk of potentially losing it in his first defence, might face a version of Silva with a renewed fire and a new goal.
That being, to wipe the memory of UFC 162 from his mind and go out on top and cement his legacy as the best ever after facing and beating a late hurdle in his glittering career.