---
It's not all bad Spurs fans look what you could have instead.
So we're presuming all Tottenham Hotspur fans are sick of the Gareth Bale to Real Madrid rumours, but if the north London club did receive a world record £85m for the Welshman, here's five ways Spurs could reinvest that money.
1. Sign a new strike force in Soldado and Suarez
Even if Spurs had to pay the full whack being touted for the pair then the club would still have change for some smarties .
It's rumoured that any potential suitor for Luis Suarez will have to up their offer to £55m, whilst a release clause for Roberto Soldado is thought to be a little over £26m.
By our estimation here at fanatix that adds up to £81m – a positive bargain.
2. Build a new stadium
In fact a few years ago the money could have been used to buy the whole of Newcastle United, although the commute for Spurs fans might be a bit much.
Although in seriousness Tottenham have been reviewing the idea of building a state-of-the-art replacement for White Hart Lane for some time, maybe something similar to their rivals over at Arsenal (or not).
The fee from Bale would take a hefty chunk out of the costs of building a new home worthy of top European football.
3. Buy a brand new starting XI
Sound stupid? It's not so far-fetched as Eurosport have shown with a handy team sheet to show who Spurs could potentially buy for £85m, based on the players' fees this summer.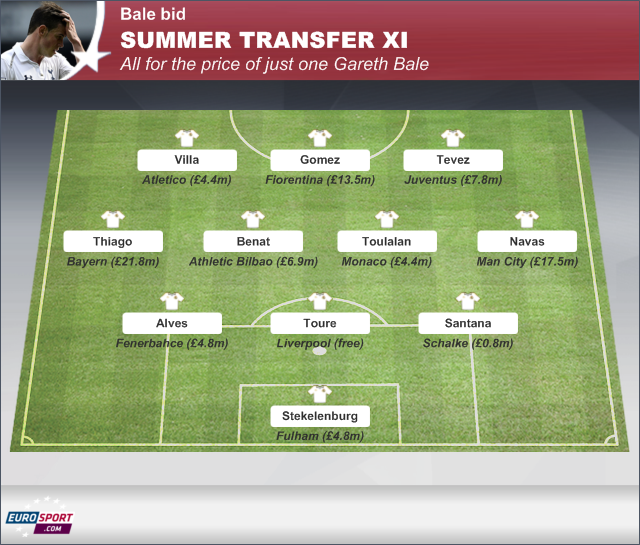 A slightly dodgy defence perhaps but the attack is truly world-class.
4. Spend on research to clone a new Bale
In fact Spurs are already halfway there with youth player Kenny McEvoy, who the club have clearly been giving 'Bale' grooming tips to.
The 18-year-old has the look down, now all Tottenham have to do is transfer their star's unbelievable, match-winning talent to the Irishman. Piece of cake with £85m surely?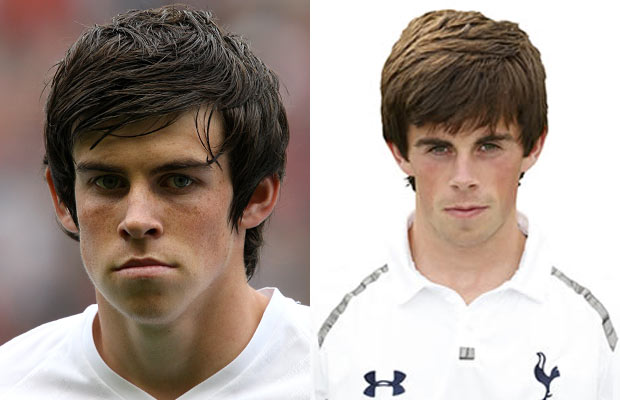 Photo courtesy of the Sun.
5. Give every Spurs fan £7.72 each
Admittedly this probably would barely buy a pie at the Lane, but according to estimations at Spurs forum The Fighting Cock their beloved side are the 12th most supported team worldwide with 11m fans.
So fanatix got its trusty calculator out again and we worked out that £85m divided up equally would be £7.72 for every fan on the planet, with change left over for… oh already did that one.