---
Following the release of the official FIFA 16 ratings, we now know who the fastest footballer in the world is in the eyes of EA Sports.
It's Arsenal's Theo Walcott. The former Southampton wonderkid has a pace rating of 96.
The Gunners star also boasts 96 for sprint speed and 95 for acceleration, as well as 81 for dribbling, which makes him a brilliant RM.
Walcott is the fastest, but he's not the only rapid player on the new game.
The fastest three players on Planet FIFA are all RMs, with Stabaek wide man Ernest Asante and Tigres UANL winger Jurgen Damm both on 95 for pace.
Below are the 20 fastest players on the game.
SEE MORE:
Anthony Martial Man United debut: £36m signing set to be unleashed on Liverpool
Manchester United Champions League squad: De Gea IN, Valdes OUT
Papy Djilobodji squad number: £2.7m Chelsea signing given former legend's shirt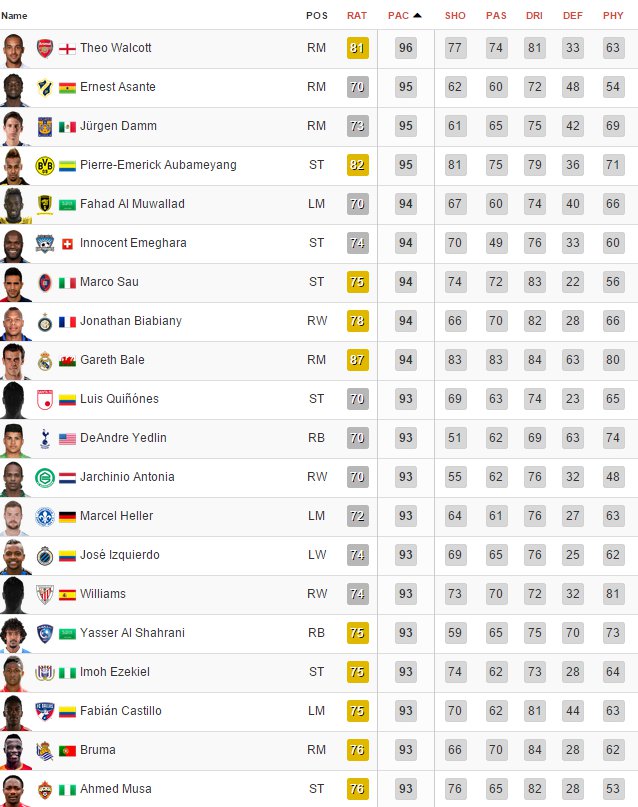 As you may have noticed, there are only two Premier League players in the top 20 – Walcott and Tottenham Hotspur's DeAndre Yedlin, who is on loan at Sunderland.
However, there are many pacy Prem players on the game.
After Walcott and Yedlin, Raheem Sterling comes next on the speed chart.
Yedlin and Sterling both have 93 pace ratings, but the American is slightly quicker because of his 93 sprint speed, compared to the Manchester City flyer's 92.
The 20 fastest Premier League players, which you can see below, include Lazar Markovic and Christian Atsu – on loan at Fenerbahce and Bournemouth from Liverpool and Chelsea respectively.
Other Chelsea speed merchants include Eden Hazard and Loic Remy, while Arsenal have the second fastest RB in the world – in Hector Bellerin.
Manchester United's quickest player is summer signing Memphis Depay.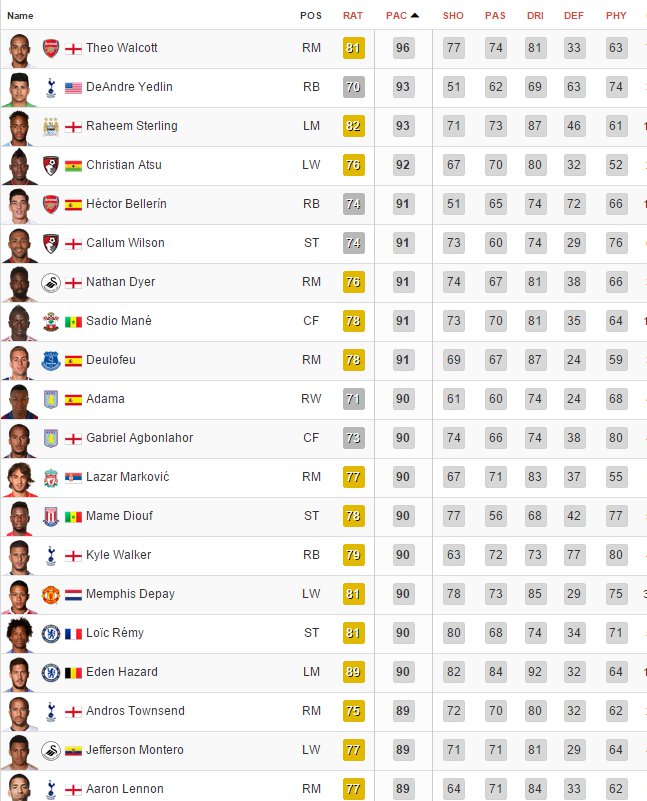 In case you were wondering, La Liga legends Lionel Messi and Cristiano Ronaldo both score 92 for pace.