---
Ashton Agar leaves England stunned with fightback before lunch. 
A stirring fightback by debutant Ashton Agar and Phil Hughes has left Australia remarkably in front by 14 runs at lunch on day two of their Ashes Test match at Trent Bridge.
Agar became the highest scoring number 11 on debut in Test cricket history as he finished 69 not out at lunch, with Hughes on 63 not out as Australia went to the break at 229-9.
The pair have put on 112 off just 21 overs as they ripped the ascendency away from England, who looked certain to earn a healthy first innings lead with Australia at one point being 117-9.
Australia began the second morning in positive fashion as Steve Smith and Phillip Hughes
looking to take the fight to he home side.
The ball failed to swing as much as it did for both sides on day one with Alastair Cook then turned to
Graeme Swann to see if there was any purchase in the Trent Bridge surface.
Steve Smith bought up his 50 as he skipped down the wicket from Swann's first ball in a signal of intent by the number six batsman.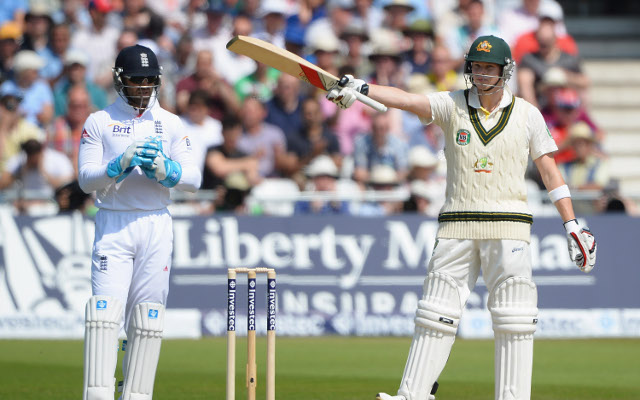 However, Smith was sent packing soon after after a ball for 53 from Jimmy Anderson nipped off the deck, with a thin edge finding the gloves of Matt Prior.
The wicket was a vital one for the home side as the overnight pair began to look comfortable at the crease, as Australia fell to be 108-5.
Brad Haddin came to the crease looking to continue his excellent form in first-up Ashes Test matches, with the Australian keeper scoring two centuries in as many games.
Swann claimed his first victim of the Test match when he got good purchase off the surface
to hit the top of off-stump.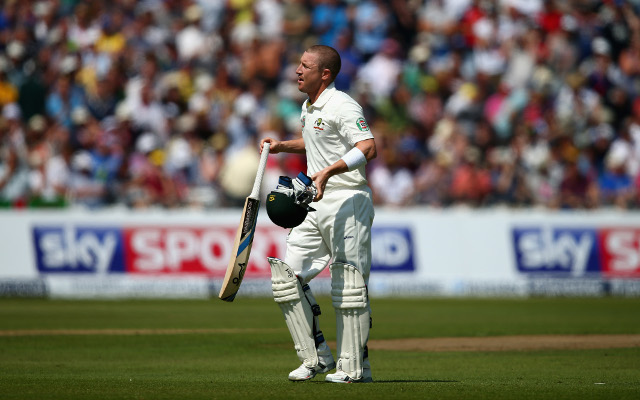 England were right back on top with Haddin being dismissed cheaply for just one as the Aussies began to crumble at 113-6.
Swann could have had another wicket soon after with Peter Siddle edging low-down with Prior unable to take the tough chance.
With just a hint of reserve string on show for Anderson, Siddle edged a back-of-a-length ball with Prior diving to his right to take an excellent chance.
Despite the good bowling by the England attack, Australia had squandered a chance to, potentially, earn themselves a handy first innings lead with their second morning collapse.
England could have another wicket after Mitchell Starc edged to Swann at third slip, who dropped a low but easy chance.
Despite the catch going begging, England had tightened their grip on the game at 114-7.
Anderson grabbed his five-wicket haul with a regulation catch going through to Prior as Starc was dismissed for a duck as Australia struggled to stop the rot.
The tourists scored 28 runs in the first 30 minutes of the day's play, but in the blink of an eye, they lost 6-4 as they trailed by 101.
Swann snared his second for the day when he trapped James Pattinson in front, with the Australian's opting to review in the desperate hope the technology would be their friend.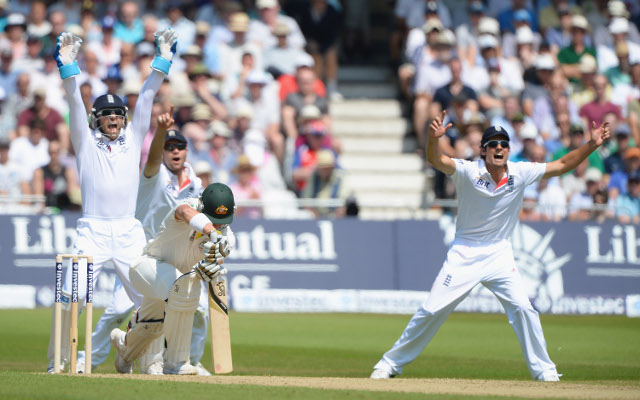 But Hawkeye was no ally of the visitors as it doomed them be 117-9, thus taking away any momentum they gained on day one.
That left Ashton Agar on Test debut to try and salvage some pride for Australia as they chipped away at the imposing deficit still in front of them.
Agar and Hughes put on a rear-guard action for the last wicket adding 121 before lunch on day two.
Scoreboard
England v Australia
Played at Trent Bridge
Toss won by England
England 1st Innings 215 (P Siddle 5-50; J Pattinson 3-69)
Australia 1st Innings (overnight: 75-4)
S. Watson c Root b Finn 13
C. Rogers lbw b Anderson 16
E. Cowan c Swann b Finn 0
M. Clarke b Anderson 0
S. Smith c Prior b Anderson 53
P. Hughes not out 63
B. Haddin b Swann 1
P. Siddle c Prior b Anderson 1
M. Starc c Prior b Anderson 0
J. Pattinson lbw b Swann 2
A. Agar not out 69
Extras (lb11) 11
Total (9 wkts, 55 overs, 250 mins) 229
Fall of wickets: 1-19 (Watson), 2-19 (Cowan), 3-22 (Clarke), 4-53 (Rogers), 5-108 (Smith), 6-113 (Haddin), 7-114 (Siddle), 8-114 (Starc), 9-117 (Pattinson)
Bowling: Anderson 21-2-70-5; Finn 15-0-80-2; Swann 17-4-55-2; Broad 2-0-13-0
England: Alastair Cook (capt), Joe Root, Jonathan Trott, Kevin Pietersen, Ian Bell, Jonny Bairstow, Matt Prior (wkt), Stuart Broad, Graeme Swann, Steven Finn, James Anderson
Match position: Australia lead England by 14 runs with one first innings wicket standing.