---
Three Lions make solid progress early in their first innings.
England have finished at 55-2 at lunch on day two of the first Test match in Brisbane, with positive signs for the visitors as they look to chase down Australia's 295.
Beginning the day still with two wickets in hand, Australia were unable to continue their rear-guard action started by Mitchell Johnson and Brad Haddin late on day one.
Ryan Harris was the first to go when he attempted to let a ball go from the bowling of Stuart Broad and only managed to glance the ball to the waiting slips.
Haddin moved into the 90s as he looked to play his strokes with only number 11 Nathan Lyon at the other end.
However, his push for runs was his undoing as he attempted a suicidal second run, which only saw him caught well short of his ground as Australia was bowled out well by the England attack, for the below-par score of 295.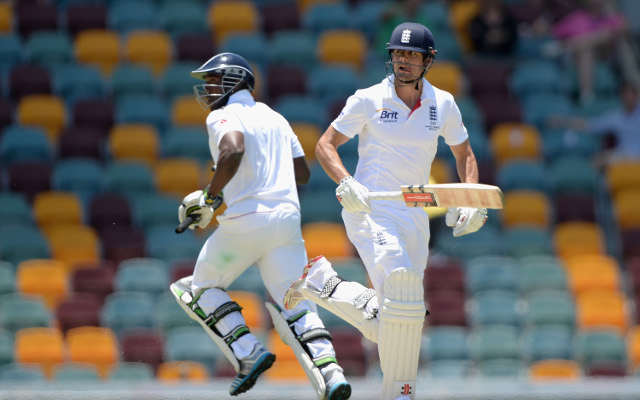 In reply, England captain Alastair Cook and Ashes debutant Michael Carberry made a solid start to their run-chase adding 28, before the Three Lions' skipper was sent packing.
Ryan Harris continued his good form against the England top-order, as he prompted an outside edge from Cook which was gleefully taken by Haddin.
Despite the interruption, Carberry continued to farm runs on the on-side thanks to wayward bowling from the Australian's, most notably left-hander Mitchell Johnson.
However, Johnson became the hero for the Australian side when he elicited an edge from a short-ball down legside which was taken by Haddin for his 200th career Test dismissal.
Carberry and Kevin Pietersen, in his 100th test match, will resume their innings on 31 and zero respectively as they push on towards the Australian first innings total.